Huawei will unveil the P20 series in a couple of weeks, a phone that's supposed to compete directly against the iPhone X, whose design it'll copy, and the Galaxy S9, which is about to hit stores in various countries. Rather than having the P20 share the stage at MWC 2018 with the Galaxy S9, Huawei decided to schedule a separate press event for March 27th, in Paris, France.
That gave leakers plenty of time to gather more information about the P20 series, and we learned plenty of details about the three upcoming P20 phones, including the P20 Lite, the P20, and P20 Pro. A fresh batch of press renders that were just posted on Twitter reveal one fascinating detail about the handset, which may give Huawei a unique pitch. And it's not the triple-lens camera of the Pro version, which will undoubtedly be one major topic during the press conference.
The Huawei P20 phones will, in all likelihood, pack features similar to what's available on the iPhone or top 2018 Android smartphones. We're looking at an all-screen design with a notch, high-end specs, and rear cameras with at least two lenses. The P20 Pro will have an extra camera on the back, which should help the handset stand out of the growing crowd of devices with two rear-facing cameras. Hopefully, it's not just a gimmick.
But WinFuture's blogger Roland Quandt, who published an extensive Galaxy S9 scoop days before Samsung's announcement, has obtained what look like press renders of the three devices.
As you can see in the following sets of pictures, Huawei is about to propose buyers a range of colors unseen on other handsets, beyond the "boring" black and white options that ever smartphone vendors launches every year.
Here's the P20 Pro:
Here's the P20:
And the P20 Lite:
We're apparently looking at gradient colors for the P20 Pro on top of regular black and blue colors. What is the one below going to be called? Purply Bluish Green? That's not something we get to see on other flagship devices. And while I personally don't care about the color of the phone under my current screen protector, plenty of smartphone buyers value color options most.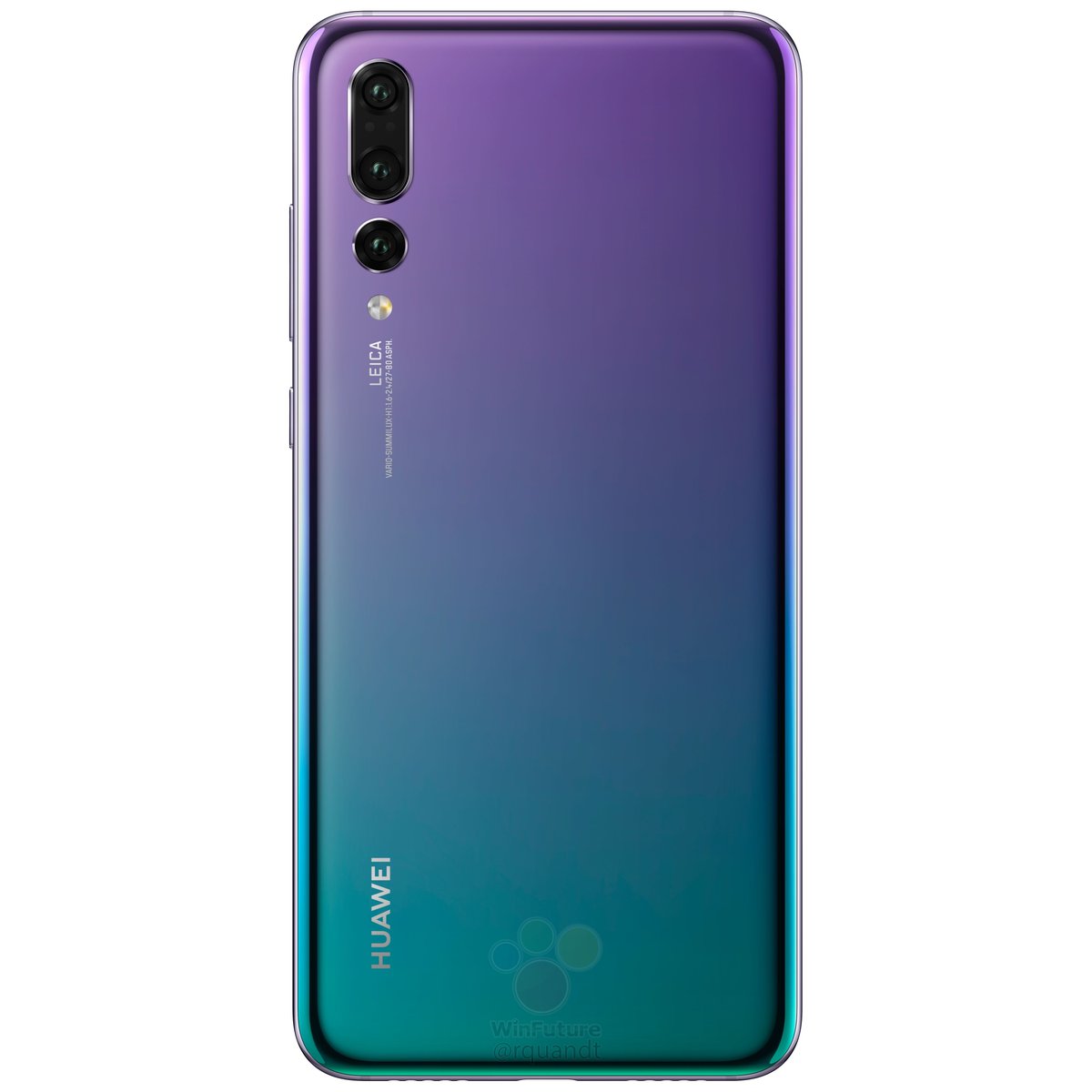 Huawei fans in the audience might remember the company's huge P10 press event at MWC 2017, where Pantone Color Institute CEO Leatrice Eiseman spent a good amount of time on stage explaining how it worked with Huawei to choose the green and blue colors of last year's flagship.
It sure looks like Huawei hasn't given up playing with colors, and the company will soon tell us more about how it chose those particular hues.