Huawei will unveil the Mate 20 series in less than two weeks, but we already know one detail that makes the phone more interesting than any other Android device launching this month. The Mate 20 and Mate 20 Pro will rock Huawei's new 7nm Kirin 980 processors. The only other 7nm mobile chips in town power the iPhone XS and iPhone XS Max, while all the other Android flagships are on 10nm chip technology.
On top of that, many reports have claimed so far the Mate 20 Pro will have features that are unavailable on other devices, suggesting the phone will be at the premium side of the spectrum when it comes to cost. A new leak, however, says Huawei's next flagship phone might be significantly cheaper than its most important rival, the iPhone XS.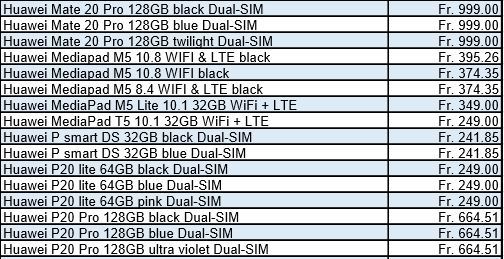 A Swiss retailer has already listed the prices for the upcoming Mate 20 phones. The 128GB Mate 20 is priced at CHF 799 in the photos provided, while the Mate 20 Pro costs CHF 999. Phone Arena, which obtained the prices from a tipster, says that the quotes come from hardware distributors, which means customers will pay CHF 50 to CHF 100 more for the devices. That puts the prices at up to CHF 899, and CHF 1,099, respectively.
There's no point in converting the prices in dollars or trying to guess how much the phones will cost in America because the resulting figures wouldn't be accurate. That's not how it works. Not to mention that European prices already factor in local taxes.
But we can compare these figures to the known cost of the iPhone XS in the region. The iPhone XS starts at CHF 1,199, while the iPhone XS Max is priced at CHF 1,299 in the country. The Galaxy Note 9, meanwhile costs CHF 1,049 in Switzerland.
There's no way to tell whether the listings above represent accurate information, but Huawei should reveal the official prices for the Mate 20 and Mate 20 Pro on October 16th. That said, it's likely the Mate 20 phones won't be available from US carriers, which means you'll have to buy one for full price from electronics retailers that still sell Huawei hardware in the States.