HTC is expected to unveil a brand new flagship smartphone in the coming weeks. The HTC U 11 promises to pack a feature not seen on any other smartphone, an outer edge that can register touch input. The HTC U 11 is otherwise your run of the mill 2017 flagship Android handset, packing specs similar to what's already available from the Galaxy S8. A leak a few days ago showed the alleged packaging for the phone, which listed its most important specs and features. A fresh leak now seems to confirm the previous rumors.
A GFX Bench listing for the HTC U 11 was already spotted, revealing the phone will feature a 5.5-inch display with 2560 x 1440 resolution, the Qualcomm Snapdragon 835 platform, 4GB of RAM, 64GB of storage, 11-megapixel camera with 4K video support, 15-megapixel front-facing camera with Full HD video recording, and Android 7.1.1 Nougat.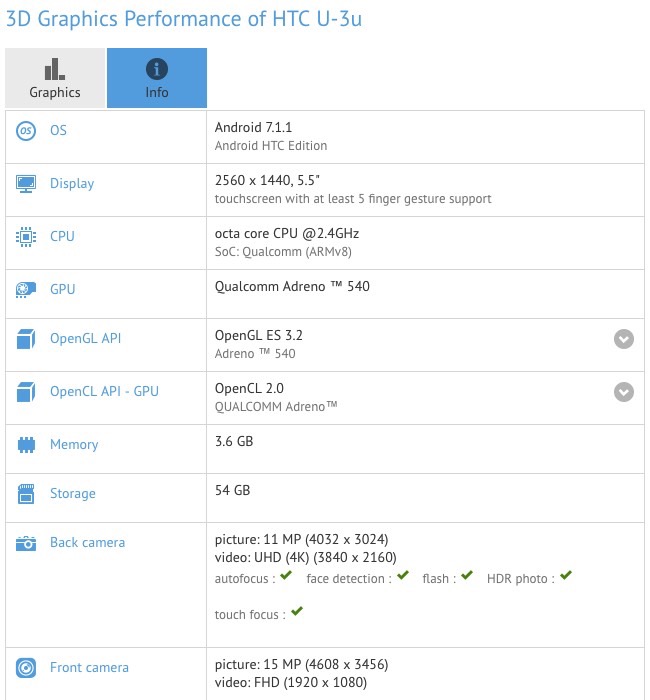 It's strange to see the rear camera having fewer megapixels than the selfie cam, some would say, but the main camera of the phone is an Ultra Pixel shooter. HTC is once again going for quality over quantity, which isn't a bad choice.
Other details aren't available about HTC's next-gen flagship handset, a device that's supposed to go head to head against the Galaxy S8, OnePlus 5, iPhone 8, and all the other flagship smartphones that will be released the year. Specs, however, aren't everything, especially this year when gorgeous all-screen devices have started to pop up. The Galaxy S8 and LG G6 are prime examples, and Apple will follow soon. Can HTC compete against these devices? That remains to be seen.