Grabbing frames from videos is part of our usual routine when covering new movies like Barbie or the hottest TV shows of the week. Whether it's Netflix, Max, Disney Plus, or Marvel titles, there's plenty of video content that comes out all the time. That means plenty of trailers and teasers to look at before the big premieres.
But grabbing the right frame for the story you're working on can be a chore. You have to ensure you get the perfect frame and then grab the best possible screenshot without any blur. That's where Google Chrome's new Copy Video Frame will come in handy. And it's a feature I hope other Chromium-based browsers like Microsoft Edge will steal in the future.
Aside from the example above, there are plenty of reasons to grab frames from videos. You might be a content creator looking to share specific images from your videos. Or you might want to share a certain scene from a clip you found online with friends and family. Perhaps you have an idea for a funny meme that requires a certain image.
In its blog post, Google tied the new Copy Video Frame to school use. "It's easy to copy an image from a website in Chrome — but what if you want to capture an important frame from a recorded lecture for your notes?" Google asks. "You could take a screenshot, but you'll likely get a lower-quality image (with the video's progress bar cut across it)."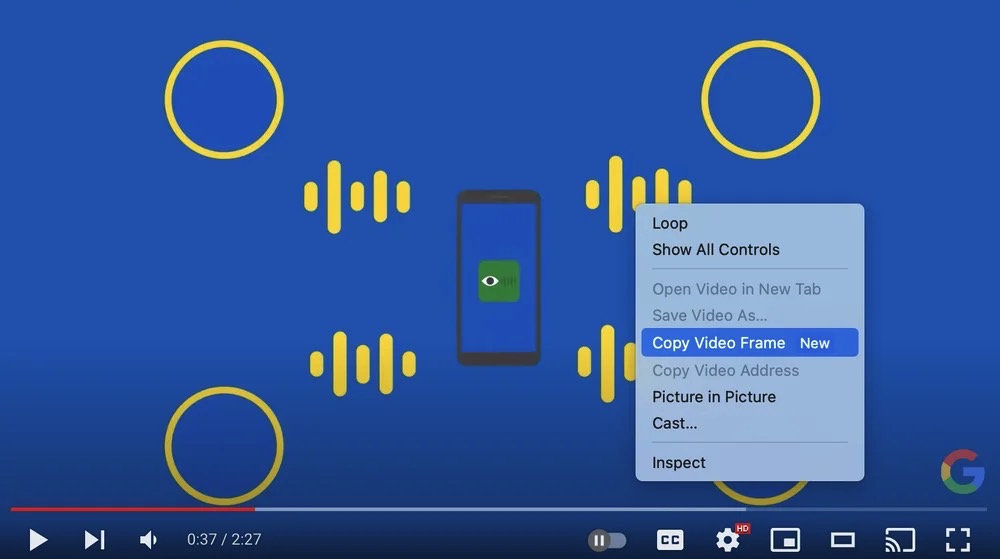 This new Chrome feature is very easy to use. You can pause a video playing in Google Chrome when the frame you need comes into view. Once that happens, you only need to right-click on the paused video and then select the new Copy Video Frame option that appears. You'll see a menu similar to the one in the screenshot above.
The reason Google is tying the feature to school activities concerns the topic of Google's new blog post about Chrome features. Google highlights four other Chrome tricks to use for school-related purposes besides saving frames from clips.
Google Chrome lets you organize tabs into groups and search tabs for the website you need. It also lets you quickly pick up your research project by returning to the grouped history page (it used to be called Journeys).
Finally, Chrome includes Google's Password Manager, which lets you save unique passwords for your website and autofill them the next time you want to log in to websites. Also, Google Chrome supports various extensions that can help while studying.
All of those were Chrome features that you probably already knew about, more or less. The one that stands out is the new Copy Video Frame trick which also works great outside of the classroom. I know I'll be using this new feature a lot for my work-related screenshot needs.
You can check out Google's full blog post at this link.