Apple wasn't the first consumer electronics company to release cord-free Bluetooth earbuds. In fact, rivals had similar offerings years before Apple joined the party. Apple might not have been first but the company certainly did it best, as is often the case when Apple enters a new market — just look at the iPad and iPhone for perfect examples. They have a better design, a smarter case, and more advanced wireless technology than anything else on the market. They even have better sound quality than most cord-free earbuds, but they're not perfect.
While Apple's AirPods do deliver surprisingly good sound quality, users don't always get to hear it. Because the earbud tips are made out of smooth plastic instead of silicone, they never stay in one's ears securely. A loose fit means there's no noise isolation, so sound leaks and audio quality suffers. There are a few ways to address the issue, but a new "hack" offers the best solution we've seen so far.
If you want your AirPods to actually stay in your ears with a good seal, silicone tips like these are the most effective and comfortable solution there is. They'll ensure that your AirPods stay securely in your ears and they'll prevent any sound from leaking by keeping a good seal, but there's an obvious problem with this solution: you have to remove the tips anytime you want to charge your AirPods. There's simply no way to get them in the case without removing the tips.
Via Reddit, a new solution has been found by a user named "NewZealandMatt" on an Apple forum. It's actually quite smart. Using a hole punch and a roll of Nexcare Absolute Waterproof Tape, which is cushioned and grippy, you can strategically place tiny dots on your AirPods so they stick in your ears without slipping. Best of all, the AirPods still fit in the case, so they can be charged without having to remove any tips.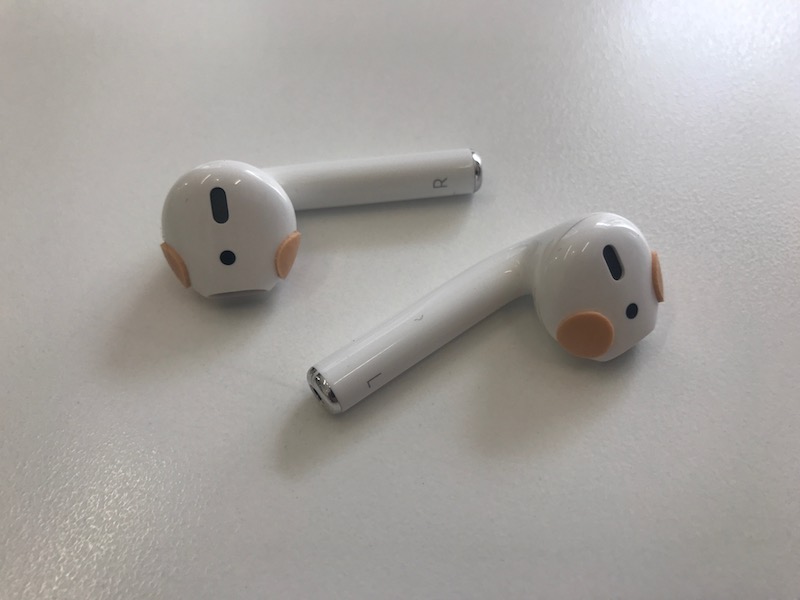 You can get a Swingline hole punch for under $5 on Amazon, and a roll of cushioned 3M tape is under $10. It looks a bit funny, as you can see in the photo above, but the tape is completely hidden inside your ear while you're using the AirPods, so it's obviously not a big deal. Check out the full post here, but the gist of it is pretty simple: Punch holes in the tape, then stick them on your AirPods.