Apple's HomePod debuted to rave reviews, but it seems that the device — which sells for $349 — is simply too expensive to make much of a dent in the smart speaker market. According to a recent research report put together by Consumer Intelligence Research Partners (CIRP), HomePod sales currently fall somewhere in the 3 million range, good enough to give Apple a 6% share of the market.
Of course, the market leader remains Amazon, with the company's range of Echo speakers currently boasting a market share of 70%. Google Home, meanwhile, has a market share of 24%.
"Apple introduced HomePod in the first quarter, and now has a small but meaningful share," CIRP co-founder Josh Lowitz said in a press release. "It took a small share of the market from both Amazon and Google. Still, Amazon has a two-year head start, and Amazon and Google each have a low-priced device that accounts for at least half of unit sales, so it's not clear how much further Apple can establish itself in the market without a more competitive model."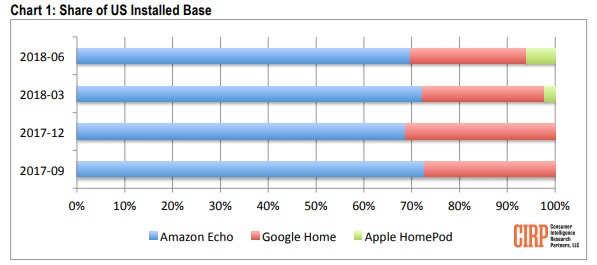 Indeed, there are rumblings that Apple plans to get more aggressive with the HomePod going forward. Most notably, there have been rumors that Apple may release a cheaper version of the HomePod somewhere in the $150 range. It remains unclear, though, if a cheaper model would ship with a stunted feature-set or, perhaps, a less robust acoustic experience.
All that said, if Apple truly wants to compete in the smart speaker space, it might want to focus more on enhancing the functionality of Siri as opposed to improving overall sound quality. While Amazon's Echo devices don't deliver great sound, the reality is that most consumers simply don't care.