Smartphone users and TV watchers in Hawaii on Saturday morning were on the receiving end of a harrowing and fear-inducing emergency alert regarding an impending missile attack. The message, reportedly the result of human error, instructed individuals to seek immediate shelter and naturally left many folks in a panic.
The full message reads as follows: "BALLISTIC MISSILE THREAT INBOUND TO HAWAII. SEEK IMMEDIATE SHELTER. THIS IS NOT A DRILL."
Here's what the alert looked like for iPhone users.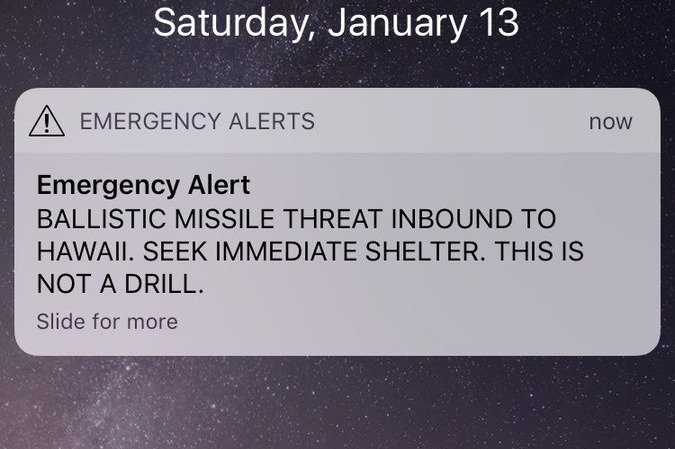 And this is what the alert sounded like for TV viewers:
TV with the alert pic.twitter.com/VCZAtvyuzQ

— Michelle Broder Van Dyke (@MBVD) January 13, 2018
Arguably, the alert might have been viewed with immediate skepticism by the masses under normal circumstances, but the ongoing verbal tussle between Donald Trump and North Korea leader Kim Jong Un left many Hawaiians generally frightened and under the impression that an impending attack was coming. Ultimately, the saga was sorted out when an alert indicating that the original alert was erroneous was sent out 40 minutes later.
NO missile threat to Hawaii.

— Hawaii EMA (@Hawaii_EMA) January 13, 2018
As to how this whole saga unfolded, Hawaii governor David Ige explained that the message was fired off after someone accidentally pressed a wrong button.
"It was a mistake made during a standard procedure at the change over of a shift," Ige explained, "and an employee pushed the wrong button." Notably, alerts that no missile was en route were also issued to radio listeners and TV watchers.
Taking to Twitter, Ige also added that he was meeting with DOD officials to determine what can be done to prevent a similar scenario from occurring in the future.
I am meeting this morning with top officials of the State Department of Defense and the Hawaii Emergency Management Agency to determine what caused this morning's false alarm and to prevent it from happening again.

— Governor David Ige (@GovHawaii) January 13, 2018