A report a few days ago revealed that Google targeted some Pixel 2 owners with an unexpected survey. It came in the Settings app of all places, surprising the owner of the phone, who happened to be an editor for an Android blog. That's unacceptable behavior if you ask me. Even if you're a die-hard Android enthusiast ready to cut Google some slack, it's still something that shouldn't happen.
We now hear that Google is doing a similar thing on other Android devices, where surveys have appeared in the Android Messages app.
Google just turned Las Vegas into a massive Google ad for CES 2018, and that's totally fine. We've got one of the best tech companies in the world that offers some of the most popular products in the world advertising at one of the most important tech trade shows. There's nothing wrong with that.
Google-branded software like Search, YouTube, Gmail, Maps, and many others make money from ads. These products also let Google collect user data so that advertisers can better target users with their products. It's a compromise most people accept without even thinking about it. But Google's ad practices have sparked numerous controversies over the years. And having unexpected "messages" from Google on Android phones is definitely not something Android users signed up for.
The same Android Central blog that first reported the unsolicited Pixel 2 survey has details on what appears to be a similar campaign that's targeting other Android devices.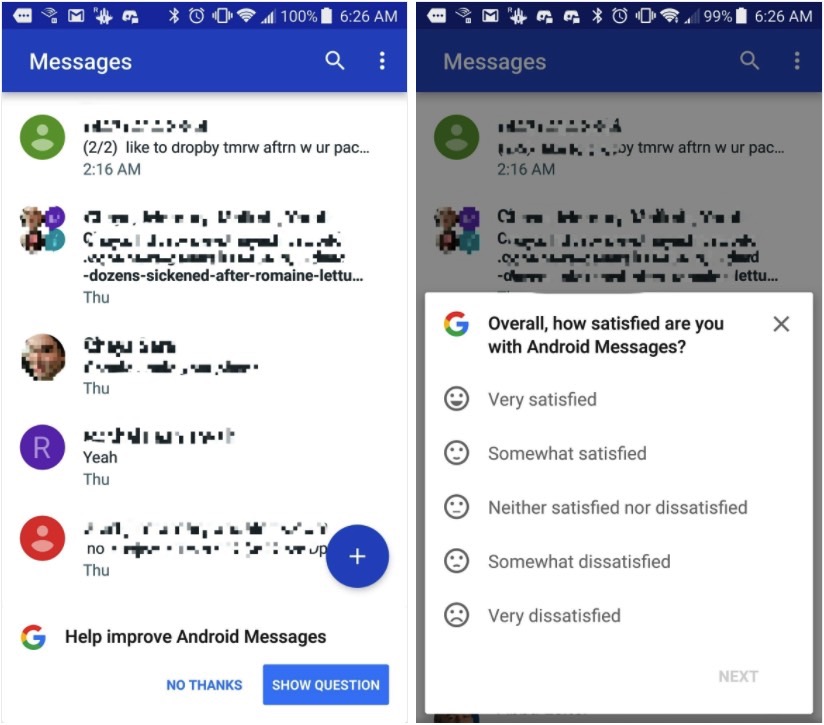 The screenshots above were captured on a ZTE Axon 7 smartphone, which received a survey pop-up in the Android Messages SMS app. From the looks of it, Google wants to find out how satisfied users are with the messaging application.
As I said last week, Google's intentions aren't the issue here. It's great to hear that Google wants to improve its products, whether it's hardware or software. But I'm sure there are other ways to do it rather ambushing Android users with surveys. After all, most Android users are signed in into Google accounts on their phones, which means they're using Gmail. Email survey spam isn't great, but it's a lot better than spamming Android phones.