Hundreds of millions of people interact with the now popular Stories format in some way every day, whether through the lens- and filter-covered Stories on Snapchat or the sticker-fied stories of Instagram's even more popular version of the same format.
Now here comes Google, which wants to bring a piece of that action to search and image results.
In a company blog post today, Google Images director of engineering Cathy Edwards said the company is making a deeper push into the Stories format after allowing some publishers to starting creating stories earlier this year. As part of today's news, Google says it's going to use artificial intelligence to create stories of content that will live within search and image results, and as this kicks off those stories will focus at first on famous people like celebrities and athletes.
"Earlier this year we worked with the AMP Project to announce AMP stories, an open source library that makes it easy for anyone to create a story on the open web," Edwards explains. "While it's still early, we've seen many publishers experimenting with this format and providing people with a more visual way to get information from Search and News … Now we're beginning to use AI to intelligently construct AMP stories and surface this content in Search. We're starting today with stories about notable people — like celebrities and athletes — providing a glimpse into facts and important moments from their lives in a rich, visual format."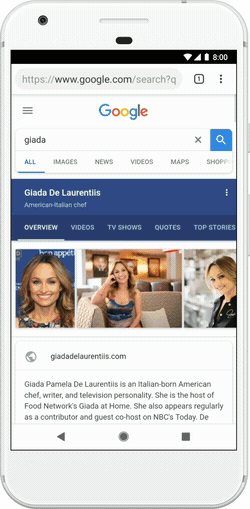 It doesn't appear that Google will be slotting ads into these Stories for now, and at an event for reporters today in San Francisco, Edwards said the company will have more details to share about the Stories format in a few months.
"Google's vote of confidence in Stories is yet another signal that the relatively new format is here to stay," a Recode report ventured today. "It's been incredibly popular on Facebook-owned apps like Instagram and WhatsApp. More than 400 million people use Instagram Stories every single day, more people than use Snapchat or Twitter. WhatsApp's version of Stories, called Status, has 450 million daily users."
Along with the announcement about the Stories format, Google also actually launched a ton of other updates to its search engine today. CNBC has a full roundup here. They include, among others things:
A new "activity card" visible at the top of your search results that shows other pages you've visited.
"Collections," which are buckets of content you've saved from the activity card.
A new "featured videos" card featuring AI-surfaced videos related to your searches.
and Pathways, which will surface details of things like training programs in your area if you do a search for jobs.