Google has confirmed that it's rolling out a new search-related feature on a wider basis after first launching as an experiment earlier this year. This particular feature might sound like it undermines the main thing you know Google Search for, which is that it's supposed to serve up a vast trove of links to answer queries you make.
But not every query — say, what if you're asking for the answer to 2 plus 2? — requires a ton of links. In fact, in some cases, a single, direct answer will do just fine. You get your answer quicker, and Google's completion of your query gets even faster. With that in mind, welcome to Google's direct answer feature.
For queries related to time, calculations, and various conversions, Google is starting to show you a single direct result. It will hide other related results, though you can tap a link to see the full selection of resulting links if you want. This wider rollout of the feature follows an experiment earlier this year and was spotted by Search Engine Land, which got an official statement from Google confirming the details.
As always, our goal with search is to help people quickly find the most relevant information. For queries where we have extremely high confidence that a user is seeking a calculation, unit conversion or local time, we will show a single result to improve load time on mobile. Since our initial experiment in February, we worked to remove ads and improve the triggering quality for this experience to be sure that we're serving users what they're looking for, and we will still provide the option to tap to see more results.
Here's a look at what this feature looks like in practice. In the graphic below, you can see Search delivering results for questions about the time, a simple math problem, and a temperature conversion: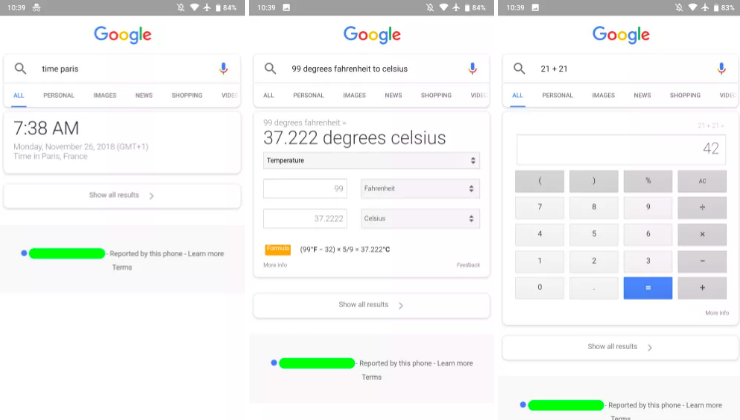 This direct-answer search feature is available on the mobile web, as well as on the Android and iOS versions of the Google Search app. Per 9to5Google, results on the desktop will still yield built-in tools, like a calculator showing your result, followed by ten blue links.