The first revealing Google Pixel 2 rumor arrived a few days ago, with the news that HTC might not be making the Google Pixel 2 XL, as was initially expected. Instead, that job went to LG, and there's evidence that Google's Taimen is indeed an LG device — though nobody is calling it Pixel 2 XL at the moment. We'll remind you that Taimen is the codename of one of the three devices Google was working on, one that described a device even bigger than the original Pixel XL.
On top of that, a benchmark listing revealed the Google Pixel 2 XL will have the same 18:9 ratio seen in 2017 handsets that feature all-screen designs, such as the Galaxy S8 and the LG G6.
So what if the Google Pixel 2 looks like this:
This isn't a leak but a render posted by a designer on Google+ all the way back in February. Yes, Google+ still exist and people still use it.
Deepal Pallav Suthar imagined a Google Pixel 2 that's somewhat similar to its predecessor. However, the phone does sport a full-screen design and a dual lens camera on the back. A fingerprint sensor is also present on the back, and the ugliest thing about the Google Pixel is still there — that strange mix of metal and glass on the rear.
The renders show various color options for the handset and suggest that Google would retain the 3.5mm headphone jack for at least one more year.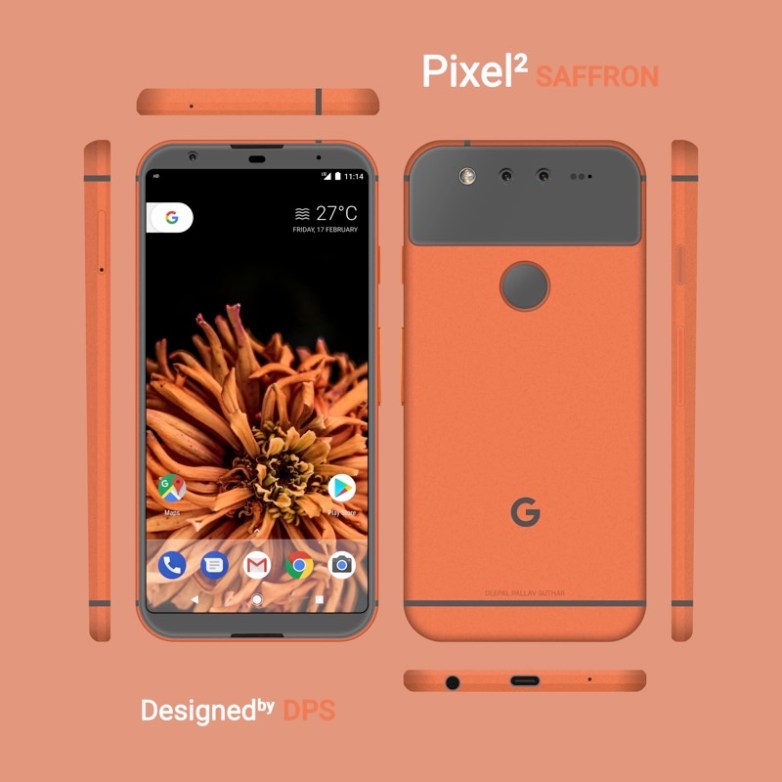 Google confirmed earlier this year that it'll launch the new Pixel phones at some point in the fall, roughly a year after the first-gen Pixels hit stores. Google also said that the Pixel 2 will still be just as expensive as the first generation.