Google is going to launch two new Nexus smartphones this year, codenamed Marlin and Sailfish. The company has yet to make them official, but a variety of reports from solid sources have revealed just about everything there is to know about them. The phones are supposed to share the same set of high-end hardware, which could make the 2016 Nexus handsets real flagship killers, and they're expected to share the same design as well.
While we did see renders based on some of the recent leaks, actual photos of the smartphones were not featured in previous reports. However, that's about to change, as a new image might show us one of the upcoming smartphones for the first time.
DON'T MISS: Working Galaxy Note 7 captured on video for the first time ever
The HTC-made Marlin made an appearance online, according to TechDroider. Unfortunately, we can only see the screen of the device, so the actual design of the HTC Marlin will remain a mystery. I guess the person who snapped the photo, assuming it's the real deal, only had enough storage for one more picture.
The photo indicates the phone is a Marlin running Android Nougat that has received the latest security patches from Google on July 5th.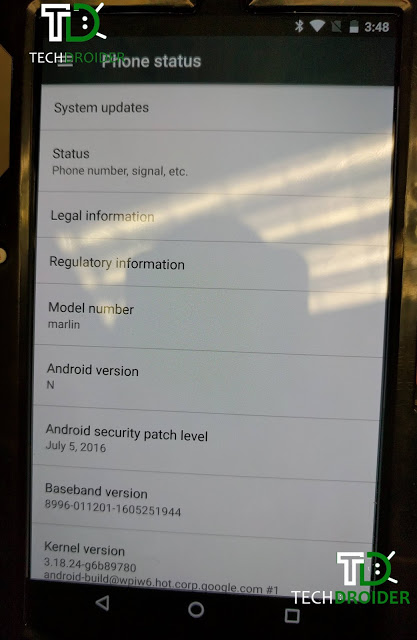 The HTC Marlin is supposed to be the followup to the Nexus 6P. We're looking at a high-end tablet that should feature a large 5.5-inch 2K AMOLED display, Qualcomm Snapdragon 821 processor, 4GB of RAM, 12-megapixel rear camera, 8-megapixel front camera, rear fingerprint sensor, 3,450mAh battery, and a headphone jack.
Hit this link to check out the rumored design of Google's 2016 Nexus smartphones.