Samsung is expected to release three flagship smartphones this year, including the "boring" Galaxy S9, the Galaxy Note 9, and the first-generation Galaxy X. The latter isn't some sort of iPhone X rival that Samsung just came up with. It'll be Samsung's first foldable smartphone and it has been featured in several reports well before Apple's iPhone X unveiling.
The Galaxy X may turn out to be Samsung's most exciting flagship of the year, at least when it comes to design. The Galaxy S9 will be a "boring" update design-wise, and the Galaxy Note 9 may have a similar fate, considering the current state of Galaxy rumors. The Galaxy X, however, will do something no other Galaxy phone can do, and that's offer users a screen that can fold like a wallet. That way, the phone can transition from a compact mode to a tablet mode. If Samsung gets it right, the Galaxy X may be the first smartphone-sized device that can transform into a tablet whenever more screen real estate is needed.
We have no idea what the Galaxy X will look like, however, as Samsung has been toying with various design ideas considering the multiple patents we've seen over the past few weeks.
Now, a new discovery suggests that Samsung may use a display feature Apple users have had for several years. Apple introduced 3D Touch pressure sensitive displays when it launched the iPhone 6s back in 2015, and all the iPhones that followed have had a similar screen, including the iPhone 7, iPhone 8, and iPhone X.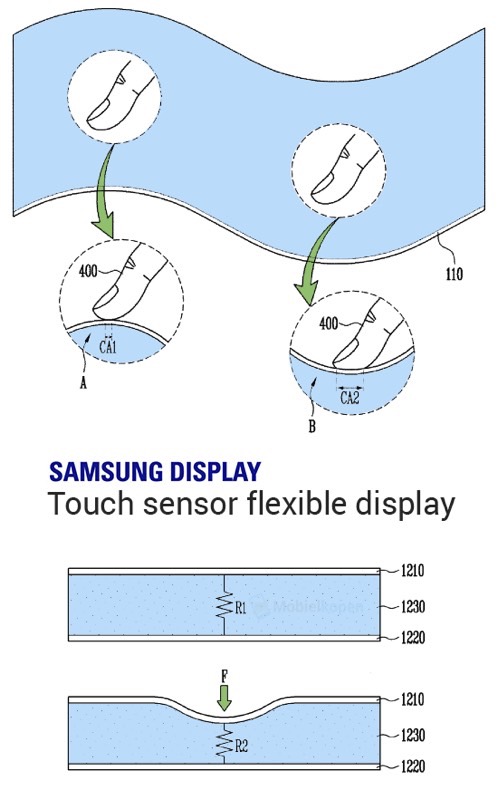 First found by Dutch blog MobielKopen, a new patent details technology that would allow a flexible screen to have the same feature by determining the pressure of a touch gesture, allowing it to trigger an appropriate gesture.
While MobielKopen suggests the technology could be on the Galaxy X, there's nothing that would stop Samsung from using the same display tech on other mobile devices. Samsung's 2017 flagships already have a pressure sensitive area at the bottom of the screens that helps with navigation. And let's not forget that the iPhone X's display is also flexible, even if it looks like it's flat, and it supports 3D Touch gestures no matter where you touch it.
On the other hand, pressure-sensitive screens may be needed in future foldable devices to automatically trigger certain actions. For example, pressure sensors could tell the device whether the screen is closed or open. However, that's just speculation at this point, and there's no telling whether Samsung will actually use this tech in any smartphones.