Called Galaxy X in reports, Samsung's most exciting phone in years will have a foldable screen. Samsung might not be the first company to create such a device, or the only Android maker working on smartphones that can fold, but the Galaxy X could be a lot more exciting than what's been done before.
Most reports say 2019 will be the year when Samsung will deliver its first foldable handset to the world, after a few years of delays. And most reports said, until a few days ago, that the phone will have three displays, including two internal ones and one placed on the outside. But a new story out of Korea details a different design for the Galaxy X.
According to the new report, the phone will fold inwards, like in the image below, which shows a Samsung prototype from a few years ago. When extended, the screen will measure 7 inches, which would make it even bigger than the Galaxy Note 9 and iPhone X Plus launching later this year.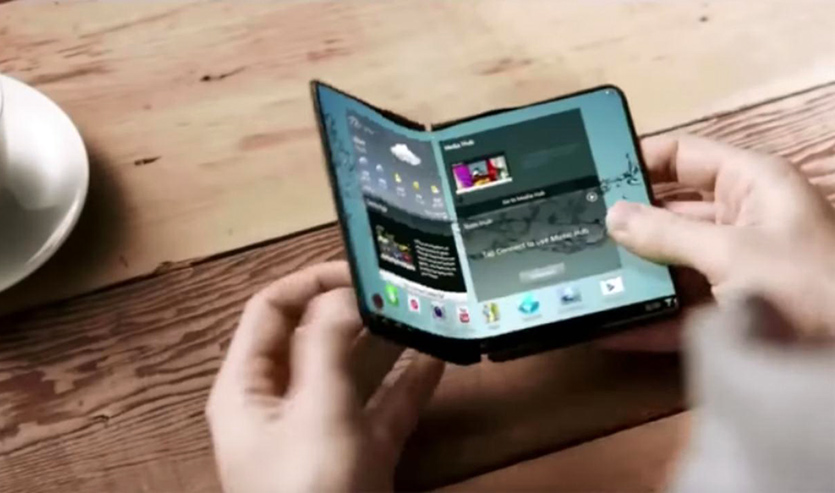 The screen will then fold inwards, like a wallet. But ETNews says that only two-thirds of the display will be covered when the screen is folded. That way, a portion of the display remains visible to show the user various information, including battery life, time, notifications, and caller IDs without the user having to unfold the phone.
Yes, that's a problem everyone making a foldable device right now needs to consider well before shipping a finished product. We do tend to spend too much time on our phones, but specific tasks do not require unlocking the handset. Answering a phone can be done from the screen with a swipe or tap. If a phone folds inwards hiding the entire display, then we'd have to fold it out for every notification that comes in.
There's nothing to confirm that ETNews's Galaxy X design version is the real deal, even though the news site has been the source of many Samsung leaks in the past.
The report notes that Samsung is already mass-producing foldable OLED screens for the Galaxy X, with a first production run set for this summer. A second run is scheduled for September and will occur after Samsung finds and fixes whatever quality issues may affect the first batch. In all, Samsung should make 100,000 foldable phones this year, and about a million Galaxy X units next year.
It's unclear when the phone will launch, but previous reports claimed that an MWC 2019 announcement is likely for what would undoubtedly become Samsung's most exciting flagship of next year.