Samsung told the world last week at MWC 2018 that it wants to sell more Galaxy S9 units than Galaxy S8, which isn't a surprising goal. But reports from Korea have been ominous regarding initial demand for the Galaxy S9, with preorders currently being described as "about the same or slightly lower" than Galaxy S8 preorders last year. One incredibly damning report said Galaxy S9 preorders are down by as much as 50% compared to last year's Galaxy S8.
On the other hand, Galaxy S9 preorders reportedly sold out in just one day in Taiwan, just as Samsung mobile's chief begins courting the most important mobile market in the world: China.
All available Galaxy S9 units were "fully booked" with Chunghwa Telecom (CHT) and Taiwan Mobile (TWM), the two leading distributors in Taiwan, Digitimes reports. Far EasTone Telecommunications (FET), a third Galaxy S9 seller, supposedly has received "higher than expected preorders," although no actual numbers were provided to the tech site. Apparently, the 128GB Galaxy S9+ accounted for 60% of orders in the region, while the most popular color was the newly introduced Lilac Purple.
Samsung expects to sell 10% more Galaxy S9 units than Galaxy S8 handsets in the first six-months of availability, Samsung Taiwan's Randy Lee said. The phone should help Samsung win market share and close in on Apple, whose iPhones are selling better in the region than Samsung's Galaxy phones.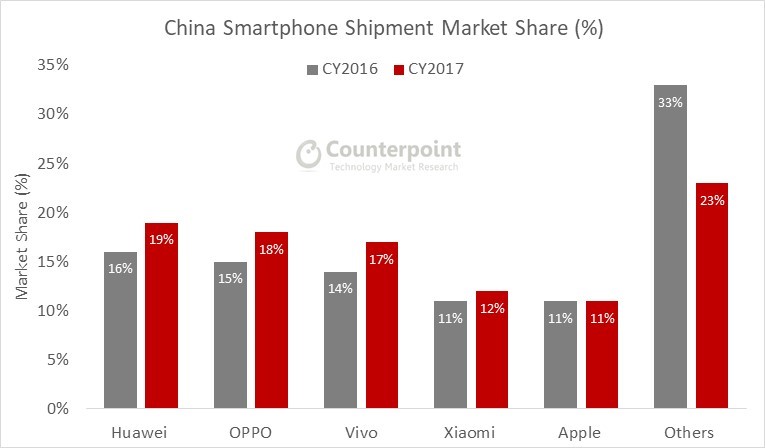 China is far more important for Samsung than Taiwan, especially considering that Samsung isn't even a top 5 smartphone seller on the mainland. Local smartphone makers Huawei, Oppo, Vivo, and Xiaomi occupy the first four positions, according to a CounterPoint Research report, with Apple rounding out the top 5 with an 11% share. Samsung meanwhile held less than 2% of the market.
Can the Galaxy S9 improve Samsung's performance in China? DJ Koh seems to think so, and he just launched the phone in the country on Tuesday, according to The Korea Herald. "Samsung will try to provide new value for Chinese consumers and economy while continuing to invest in technological innovation," Koh said during the keynote.
Koh said that Samsung is going to partner with several local tech giants including Baidu, Alibaba, WeChat, Mobike, and Jingdong to develop artificial intelligence (AI) and internet of things (IoT) mobile services for Chinese smartphone users.