With at least one month to go until the iPhone 8 hit stores, and more than six months until Samsung unveils its next Galaxy S smartphone, we already have a rumor that says the Galaxy S9 will copy a major feature of Apple's upcoming iPhone.
Reports from Korea indicate that Samsung is moving towards new smartphone mainboard technologies that will allow it to increase the battery size of smartphones at the expense of printed circuit boards (PCB).
Specifically, Samsung will manufacture Substrate Like PCB (SLP) mainboards, Business Korea explains.
These SLP will be used as the substrate that will connect various components including the application processor, the NAND memory, the RAM chips, and all the other chips you'd find on a mainboard. By integrating chip packaging technology, SLPs are more efficient, and they occupy less space inside the smartphone.
Thanks to SLP tech, Samsung will be able to reduce the length and width of the mainboard and use the extra space to increase the phone's battery.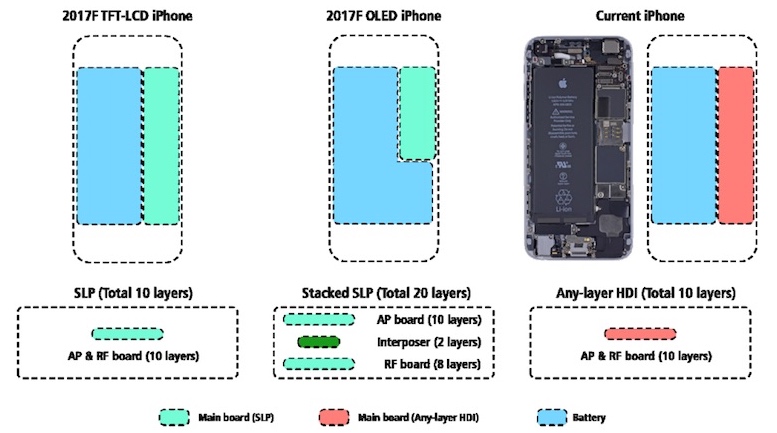 If that sounds familiar, that's because Apple's iPhone 8 is rumored to ship with a similar internal architecture. The iPhone 8's mainboard is also expected to pack SLP tech, reports said. As a result, the mainboard will be a lot smaller than in previous iPhone models, allowing Apple to deploy an L shaped battery inside.
SLP is a natural evolution of current PCB technology, and Samsung would likely make use of it even without Apple leading the way. It just so happens that Samsung is, yet again, a close follower rather than a leader.