Early rumors surrounding Samsung's upcoming Galaxy S9 and Galaxy S9+ smartphones painting an intriguing picture. According to insiders, Samsung was working on redesigned flagship phones with bezels above and below the screens that were even thinner than they were on Samsung's previous-generation Galaxy S8 and Galaxy S8+. The phones were supposedly going to feature class-leading screen-to-body ratios that climbed well into the 90% range, bringing them as close as possible to the "all-screen" design that smartphone vendors have been chasing for more than a year now.
Then, suddenly, Samsung's sleek redesigned Galaxy S9 and Galaxy S9+ were canceled.
Samsung was said to be working on multiple designs for its Galaxy S9 and Galaxy S9+ prototypes. A brief report in mid-December from a reliable source known to leak smartphone news on Twitter and Chinese microblogging site Weibo revealed that the new design we had all been hearing so much about had been scrapped. In its place, Samsung would release updated Galaxy S9 and Galaxy S9+ phones that looked almost exactly like their predecessors.
It remains unclear why Samsung chose to scrap its redesigned Galaxy S9 and S9+ duo, though there are two theories floating around that both make sense. The first simply suggests that Samsung's new design was more complicated to mass produce, and Samsung ran into manufacturing issues that would have hindered the phone's supply at launch and possibly deep into its life cycle. The second theory suggests that Samsung still plans to launch flagship phones with the new design, but it's reserving the redesign for next year since the company feels the power, performance, and camera upgrades in the Galaxy S9 and S9+ will be enough to drive sales.
Whatever the case, Samsung will unveil two new flagship phones during a press conference on February 25th, and they're going to look almost exactly like its two old flagship phones. Like many others, we were disappointed when we first heard the news. We even went as far as to call the new S9 and S9+ boring. You know what? We take it back.
The leaked image above was posted to Twitter by Evan Blass on Wednesday. We've seen the Galaxy S9 and Galaxy S9+ leak dozens of times by now, but this is our first look at either of the phones in Samsung's sleek Coral Blue color. Blass has also posted marketing renders of the Galaxy S9 and S9+ in Lilac Purple and in Black.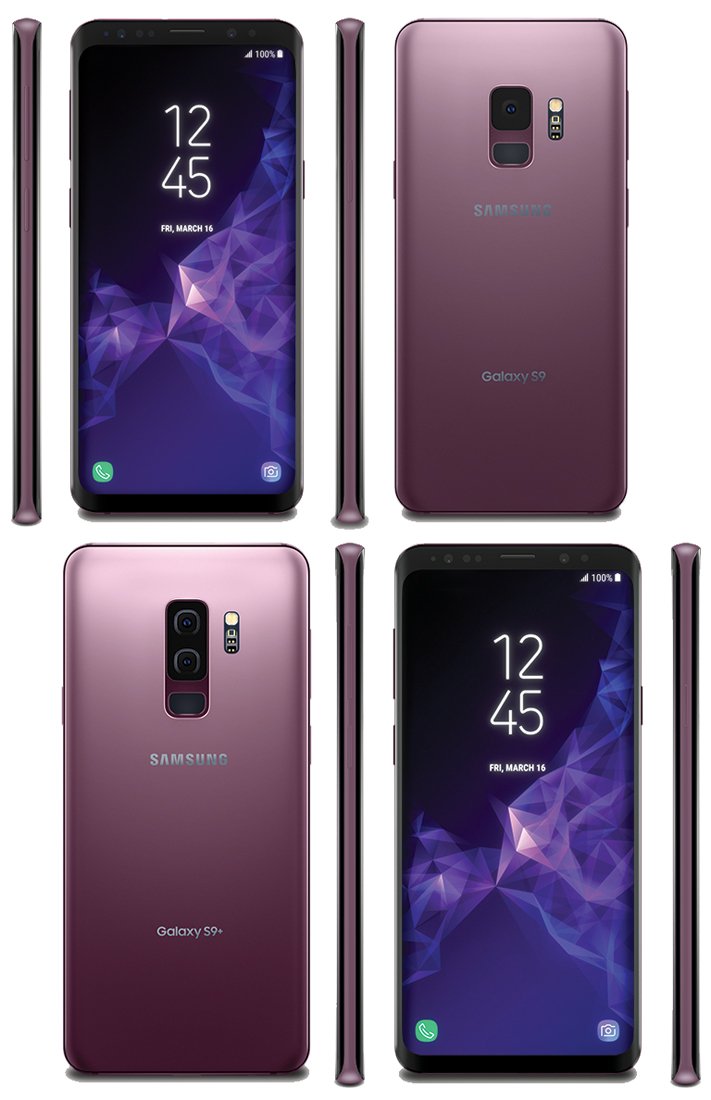 The phone looks nice in every color, but the Coral Blue render prompted us to dig our old Galaxy S8 and Galaxy S8+ units out of our gadget closet and take a look at them next to the latest flagship phones out there, including the iPhone X. You know what? They're still gorgeous, they're still sleek, and they still may very well be two of the most visually impressive smartphones that have ever been made.
If the Galaxy S9 and Galaxy S9+ cameras truly are as impressive as we've heard and seen, there's no reason for Samsung to fix what ain't broke. Companies reuse smartphone designs all the time. Heck, in terms of design, Apple has been selling the same two phones for four consecutive years now. Samsung's Galaxy S8 design isn't boring. In fact it's still one of the most exciting designs out there.
Gadget fans might have been disappointed when they learned that the Galaxy S9 and Galaxy S9+ won't have the new and improved design we heard so much about. We know we were. But when they're released next month, the Galaxy S9 and Galaxy S9+ will be two of the most beautiful phones on the market, hands down. Add in class-leading cameras and a healthy boost in performance, and Samsung may very well have two of the hottest smartphones of 2018 on its hands.