An image from a trusted leaker the other day reaffirmed what we've been suspecting. The Galaxy S9 will be more expensive than the Galaxy S8 was at launch, with the Plus model likely to approach the iPhone X's $999 price point. Since then, a new leak hit Reddit, showing Galaxy S9 preorder details in a document that has supposedly leaked from a Spanish bank.
The image below, first shared on Reddit, reveals the Galaxy S9 and Galaxy S9+ will cost €849 and €1,000, respectively, in Spain. The price goes up to €1,090 and €1,200, respectively, when insurance is added. Buyers would only have to pay €54.50 and €60 per month for 20 months, which doesn't sound too bad of a deal.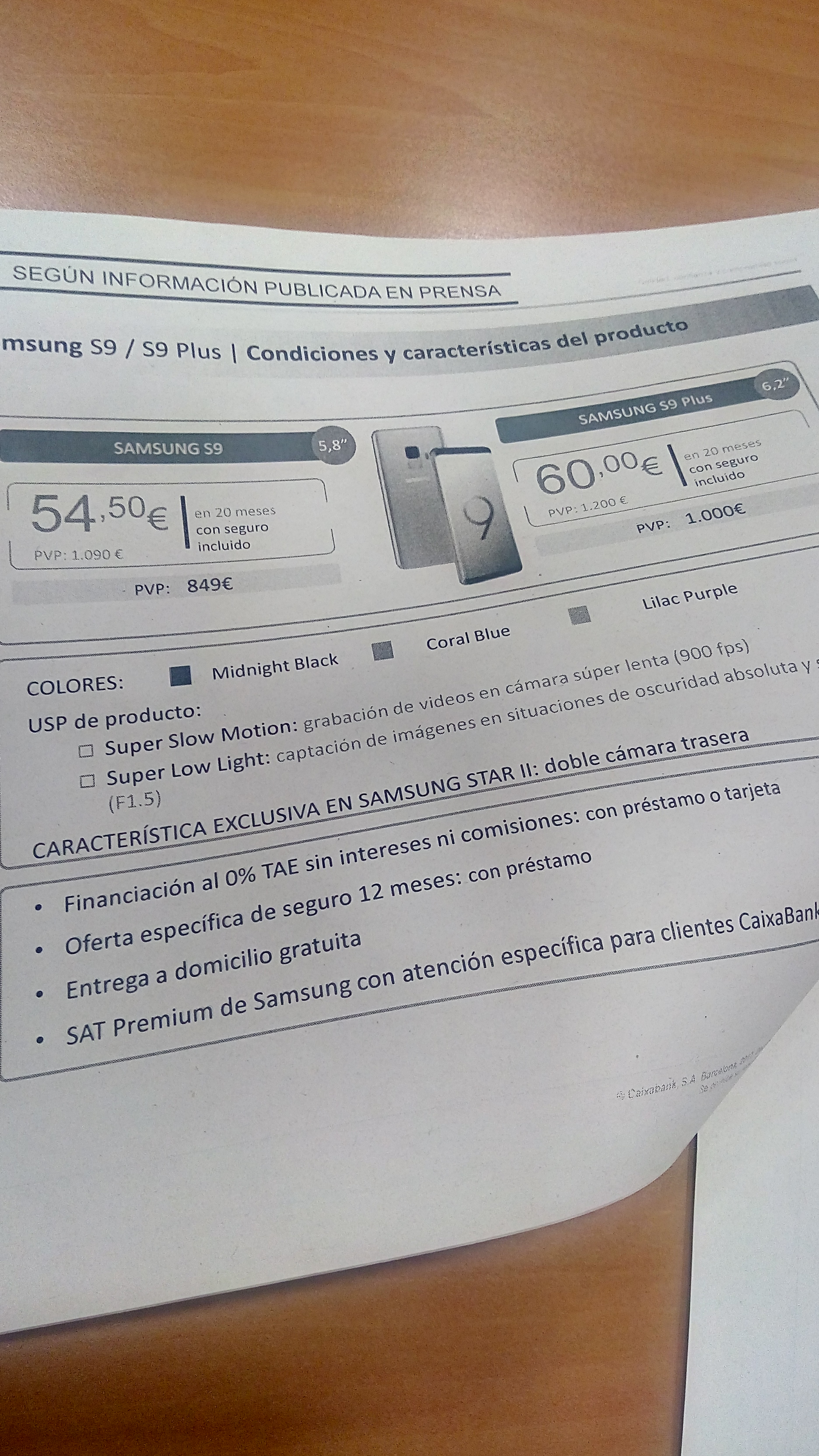 The document lists three of the Galaxy S9's four colors, including Midnight Black, Coral Blue, Lilac Purple. The bank's Galaxy S9 profile also focuses on some of the phone's main camera features, including Super Slow Motion mode (900 fps video recording), and Super Low Light mode (f/1.5 aperture). It sure looks like the camera experience will be a major selling point for Samsung.
Finally, the document says the Galaxy S9+ will have a dual-lens rear camera, but only features an image of the Galaxy S9.
Naturally, there's no way to verify the accuracy of this information at this point, but it sure seems to confirm what all the other recent Galaxy S9 leaks have said.
That said, this leaked Galaxy S9 preorder offer doesn't mention any promotions that Samsung may run during the preorder period. The company usually offers free stuff with Galaxy S and Note preorders. Not to mention there's a rumor that Samsung will offer up to $350 to Galaxy S9 buyers who trade in an old device. That deal is yet to be confirmed, however.