A few days ago, we learned that the Galaxy S8 and S8+ will have roughly the same battery life as their iPhone counterparts, and now the first test results are in. It turns out that the Galaxy S8 Plus's battery life is actually a little bit better than the iPhone 7's, which is a pretty big deal, as anyone who has compared Android battery life to the iPhone knows all too well. Unfortunately though, the Galaxy S8 and Galaxy S8+ still come nowhere close to matching the iPhone 7 Plus.
The Galaxy S8+ lasted for 8 hours in Phone Arena's test. The iPhone 7 died after 7 hours and 46 minutes, while the iPhone 7 Plus lasted for 9 hours and 5 minutes. The site used the same standard battery test for the new Samsung phone, with the screen set to the same level, 200 nits of brightness, for typical indoor use.
The Galaxy S8+ offers almost one hour of extra battery life compared to the Galaxy S7 edge, even though both devices sport a similar 3,500 mAh battery. The Galaxy S8+ is more efficient than its predecessor thanks to that new 10nm chip. However, the Galaxy S8+ also has a much bigger display, which can explain why the phone can't top the battery performance of Apple's iPhone 7.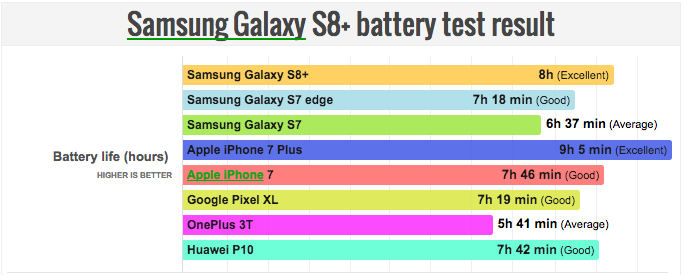 Phone Arena's graphic above also shows how the Galaxy S8+ fares against other Android devices, including the Google Pixel, the OnePlus 3T, and Huawei P10. That said, the Galaxy S8+ may not outperform the iPhone 7 Plus, but it appears as though the phone's battery will be good enough to get you through the day. The smaller Galaxy S8 hasn't yet been tested.
One thing that initial battery tests will not reveal is battery degradation. A report last week showed that Samsung developed a new battery technology to significantly slow down the degradation of the batteries in its newest flagship phones.