No, there's pretty much nothing that can stop the Galaxy S8 leaks at this point. In fact at this rate, there will probably be no secrets left for Samsung to surprise us with when it takes the stage in New York next month to unveil the phone. A brand new leak shows us the Galaxy S8 and the Galaxy S8+ side by side for the first time, giving us a good idea of how big they're going to be. Sure, we recently saw renders of the two phones sitting next to each other, but those were not photos of real-life devices like this is.
Discovered by SamMobile, the following image indicates the phones will have 5.8-inch and 6.2-inch displays. That's exactly what we expect based on recent reports.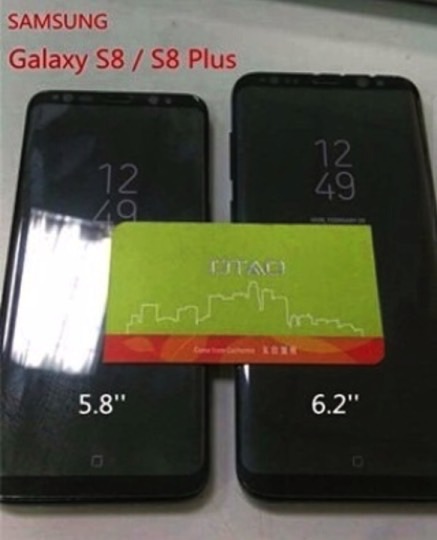 The phones share the same "all-screen" design, complete with curved edges and narrow bezels that we saw in many other leaks. The physical home button is gone, and a virtual home button is clearly seen in the image.
In fact, the Always On Display feature is visible in this picture as well, and the home button will apparently be part of that functionality. According to SamMobile, pressing on it with a bit of pressure will wake up the display, and double tapping the software button will launch the camera app.
There's always a chance the devices in the image above aren't Samsung's new Galaxy S8 flavors. But considering Samsung's track record at keeping secrets, and the many Galaxy S8 leaks that we've seen in recent months, the image is probably the real deal.
Samsung is expected to unveil the Galaxy S8 in late March, but the phone might be shown for the first time in a teaser during Samsung's upcoming MWC 2017 press conference this Sunday.