Samsung isn't done dealing with the aftermath of the massive Galaxy Note 7 recall, but the first Galaxy S8 rumors have started to emerge. Some even say that Samsung will be forced to launch the new Galaxy S earlier than expected just to make up for lost Galaxy Note 7 sales. A wild rumor from China now suggests that the Galaxy S8 will have specs that sound too good to be true… and we can only hope Samsung won't actually make the phone described in this crazy leak next year.
DON'T MISS: This is the Google Pixel smartphone
According to a Weibo leak, the Galaxy S8 will launch in April and will cost $850 outright.
The phone will reportedly have a 5.2-inch 4K display, a 3.2GHz octa-core Qualcomm Snapdragon processor, 6GB of RAM, 64GB or 128GB memory, dual micro SD card support, a 30-megapixel camera, a 9-megapixel front-facing camera, and a 4,200 mAh battery.
The phone will also supposedly also feature Corning Gorilla Glass 5.0 glass, a fingerprint scanner, an iris scanner, wireless charging, rapid charging, and a built-in mini projector.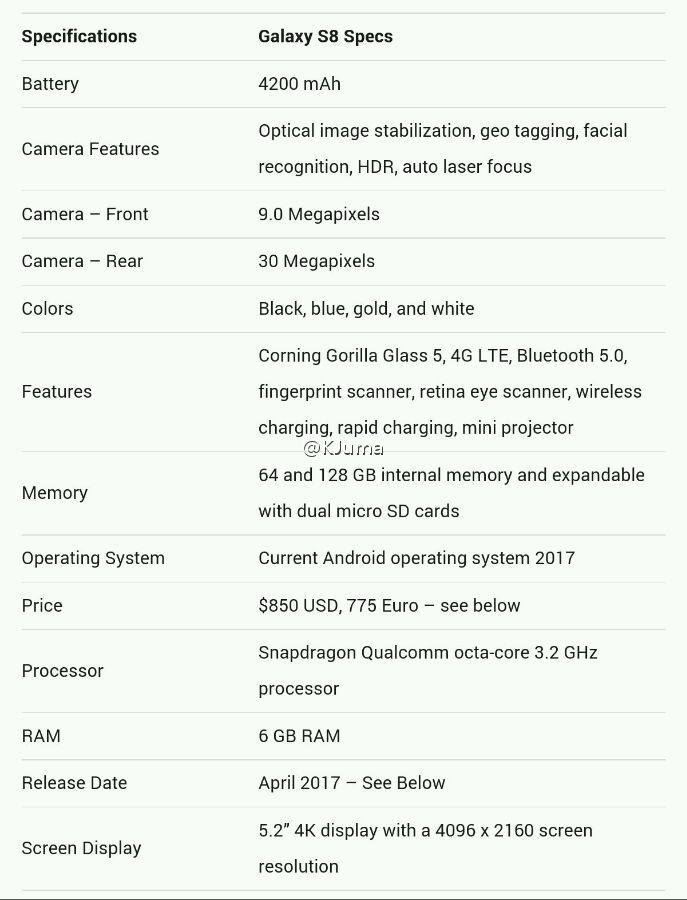 Wow! All of that sounds quite amazing. But I don't believe for a second that anybody is making such a phone, let alone Samsung. These are outrageous specs, and while they'd fit inside a phone, Samsung may run into battery problems. Cramming more demanding components inside a thin device while also increasing the battery size doesn't sound like something Samsung can do right now. Just look at the Galaxy Note 7's rushed production and the unprecedented recall that followed. That 4,200 mAh battery claim alone is worrisome.
This is just one of the many Galaxy S8 rumors that we'll see in the coming weeks. The closer we get to the Galaxy S8 launch, the more we'll know about the phone.