Samsung has no intention of unveiling its next-generation Galaxy S8 or Galaxy S8+ flagship smartphones next week at the annual Mobile World Congress trade show in Barcelona, Spain. Of course, you wouldn't know that from watching the chatter among Android fans ahead of the show. LG has a new flagship phone set to be unveiled, Nokia will debut three new models, Lenovo reportedly has a new Moto G phone set to be unwrapped, and Huawei's upcoming new flagship is rumored to be an absolute beast. And yet all anyone can seem to focus on is Samsung and its upcoming new Galaxy S8 and Galaxy S8+ handsets, which will be nowhere to be found next week at MWC 2017.
We're not terribly surprised, considering how fantastic Samsung's next-gen Galaxy S phones have sounded in leaks and rumors. We saw the full Galaxy S8+ specs sheet leak earlier this week, and the smaller S8 specs emerged soon after. Now, a new leaked photo may very well give the world its first look at Samsung's finalized Galaxy S8 hardware.
If more than a dozen independent reports are to be believed, the upcoming new Galaxy S8 and Galaxy S8+ will be two of the most impressive smartphones the world has ever seen. They're said to feature a bold redesign that does away with the home button on the front of the phone and narrows all four bezels surrounding the curved Super AMOLED displays. The result will seemingly be a much more impressive screen-to-face ratio, and we've seen a few purported early units leak and match those reports.
With the Galaxy S8 and S8+ now just over a month away from being unveiled, it's likely safe to say that hardware has been finalized. And now, a new leaked photo may very well show us that freshly finalized hardware.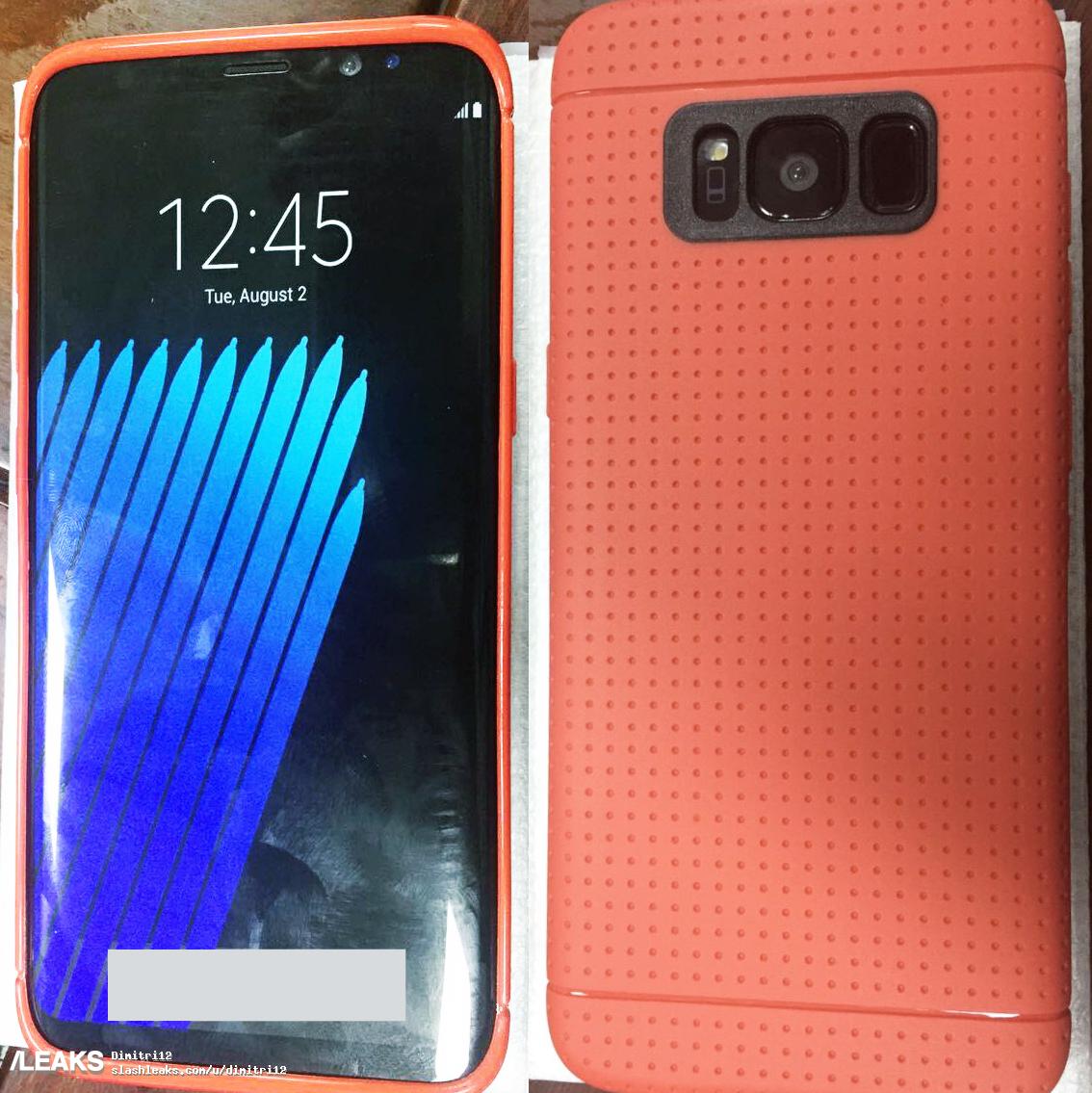 The image above was posted on a website called Slashleaks this week, and it comes from a user who is believed to have posted accurate leaks in the past. While the source of the image is unclear, the gray box seen covering part of the phone's face could be covering a watermark from any one of a number of online Chinese forums, which have become increasingly popular sources of leaks in recent years.
The phone above is pictured in a protective case, so much of the back of the device is obscured. We can see the rear camera, LED flash and sensor cluster, and the relocated fingerprint scanner on the back of the phone, however. We can also see the big, beautiful display that occupies almost the entire face of the phone.
Samsung is expected to unveil the Galaxy S8 and Galaxy S8+ during a press conference in late March, and the phones are then expected to go on sale on April 21st.