Samsung's not having a great year when it comes to flagship smartphone sales. The Galaxy S9 is seen as a dull phone, featuring the same design as last year's model and better hardware. The Galaxy Note 9 respects the same pattern. Samsung didn't even go for copying the iPhone X, like almost everyone else making Android handsets this year, which was somewhat surprising for a company that's always tried to replicate the moves of its biggest rival.
We don't have any signs that Samsung will adopt the iPhone X's notch display for the time being, and the upcoming Galaxy S10 might retain the Infinity Display design that Samsung introduced two years ago when the Galaxy S8 was unveiled. Unlike the S9, however, the Galaxy S10 will deliver many notable upgrades, including more cameras both on the front and back of the phone, and a sophisticated fingerprint sensor under the screen.
But if Samsung did go for an all-screen design for the Galaxy S10, similar to what Apple is doing for the entire iPhone line this year, it might look a lot like this: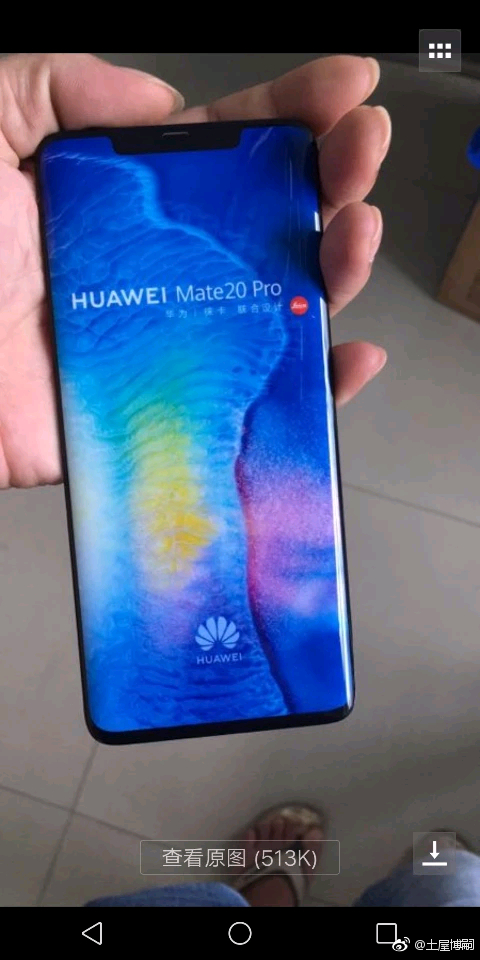 Samsung would likely retain the dual-edge screen design that it's used on Galaxy S and Note models for a few years now. On top of that, we'd have a top notch and a bottom chin.
But the phone in the image above isn't a Galaxy S10 prototype. It's marked as a Huawei handset. Better yet, this image posted on Weibo shows the Mate 20 Pro, Huawei's next flagship handset that should be unveiled on October 16th.
The phone in the photo feels familiar because we've seen it before in similar leaks. This is going to be the best Huawei phone of the year, and easily the best Android phone of 2018, at least on paper. That's because the Mate 20 Pro will deliver everything I mentioned above, according to rumors.
The phone will combine the Galaxy S9 and iPhone X designs, with the notch housing a face unlock camera system that would support 3D facial recognition like Face ID. Under the screen, there's a fingerprint sensor, and on the back, we should discover a new triple-lens camera setup, different from what we saw on the P20 Pro. Powering everything will be Huawei's new 7nm chip whose only rival will be the 7nm A12 processor of the iPhone Xs line. Aside from the Kirin 980 that Huawei already announced at IFA a few weeks ago, everything else is taken from Mate 20 Pro reports.
That said, it sure looks like Huawei will start selling later this year a phone that will not only look just like a Samsung-made iPhone X clone, but it'll also deliver the kind of specs and features that are hitting Samsung flagships only in 2019.