When the Galaxy S10 launches in late February it'll likely come in two versions when it comes to processors, a Snapdragon 855-based version and an Exynos 9820 version. And now that Qualcomm has unveiled its next flagship smartphone chip, the Snapdragon 855, we have an idea of how fast the new chipset is and how it compares to Samsung's recently revealed Exynos 9820. Spoiler alert: One is slightly faster than the other, and it's finally the model that will be available in the United States.
Posted over on AnTuTu, these early scores indicate that the Snapdragon 855 will be slightly faster than the Exynos 9820, and that's not a surprise. That's because Qualcomm's new chip is built on a 7nm process, while the new Exynos chip is an 8nm processor. Then again, the 8nm chip did beat Huawei's new 7nm processor in the same test.
The results reveal that the Snapdragon 855 scored 343051 in this new comparison, while the Exynos 9820 hit 325067 in its tests. Both of these scores are significantly higher than last year's Snapdragon 845 chip (290455 in AnTuTu). Huawei's Kirin 980 chip scored 309425 in the same test.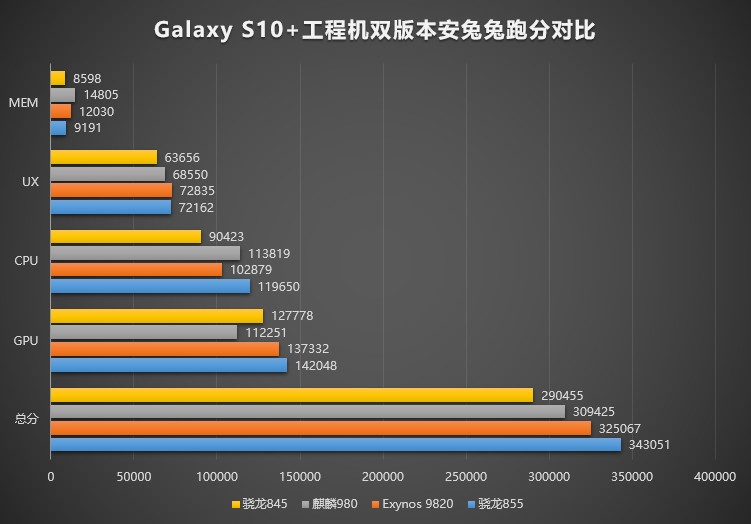 Apple's A12 Bionic scores around 350000 in the same tests, so Qualcomm's performance is laudable. These are early tests, and things may improve as we get closer to the launch of the Galaxy S10.
Buyers will likely not be able to notice any speed differences between the two devices when it comes to commercial devices. Also, Samsung may end up limiting the Snapdragon 855's power, so that buyers get the same experience no matter what chip powers their phone. If not, the US will finally get the more powerful version of Samsung's next flagship phone. In the recent past, Samsung's Exynos Galaxy S and Note models have had a slight edge in performance.
But the Snapdragon 855 will also power all sorts of 2019 high-end smartphones, including the OnePlus 7 and the Pixel 4, as well as various 5G handsets due next year like the OnePlus 5G phone that was just confirmed. Those handsets, and especially the 2019 OnePlus phones, will probably be the best phones to highlight the Snapdragon 855's speed gains next year.