Samsung still has one major launch left to tease in 2018, as rumors suggest that the company will show off a prototype of its Galaxy F phone with a foldable OLED display next month. But Samsung is finished releasing flagship phones for the year. Now that everything is said and done, we can safely say that this has been the most boring year in recent history for the world's top smartphone company. The Galaxy S9 and Galaxy S9+ were hugely disappointing, packing minimal specs upgrades into the same design as last year's Galaxy S phones. That's why they're reportedly on pace to be Samsung's worst-selling Galaxy S phones since 2012. The Galaxy Note 9 is a bit better thanks to a huge battery and a new S Pen stylus with Bluetooth, but it was a pretty boring update too, and it's been all but forgotten by the tech press at this point.
Thankfully, 2019 is shaping up to be an entirely different story for Samsung. While 2018 was filled with boring, iterative flagship updates, next year is rumored to be packed with exciting new Samsung phones. There are at least three new flagship lines launching in 2019, but the first and perhaps most exciting will be the Galaxy S10. Leaks have already spilled plenty of details surround Samsung's next Galaxy S phone, and now a new leak says there will be a special version of the new Galaxy S10 with specs that are out of this world.
From what we've already heard so far about the Galaxy S10 family of phones set to be released in early 2019, Samsung's new flagship handsets are going to be absolute beasts. They're said to feature an overhauled Infinity Display design that drastically improves the screen-to-body ratio by shrinking down the bezels above and below the screen. They'll also be Samsung's first flagship phones to feature in-display fingerprint sensors and triple-lens cameras on the back. Around front, the larger Galaxy S10+ is said to feature a dual-lens selfie cam as well.
The Galaxy S10 will reportedly have a 5.8-inch Super AMOLED display while the larger Galaxy S10+ features a 6.44-inch Super AMOLED screen. That would be the largest display Samsung has ever included on a flagship phone. Both phones as well as a third entry-level version of the Galaxy S10 are expected to be powered by next-generation 7nm Snapdragon and Exynos processors.
Where power and performance are concerned, we're already expecting the Galaxy S10 and Galaxy S10+ to be among the fastest phones in the world next year. But now, a new leak suggests that there's one version of the new S10 that will shine even brighter than the rest.
According to recent rumors, Samsung will actually release four different versions of the Galaxy S10 at launch. The first will be a lower-cost model akin to the iPhone XR, and the second will be the main Galaxy S10 with a 5.8-inch screen. Then there will reportedly be two versions of the Galaxy S10+, a standard model and a second version with 5G compatibility. Now, a leaked document posted by a user on Chinese microblogging platform Weibo suggests that the 5G version of the Galaxy S10+ will feature something else no smartphone has ever had before: A whopping 12GB of RAM.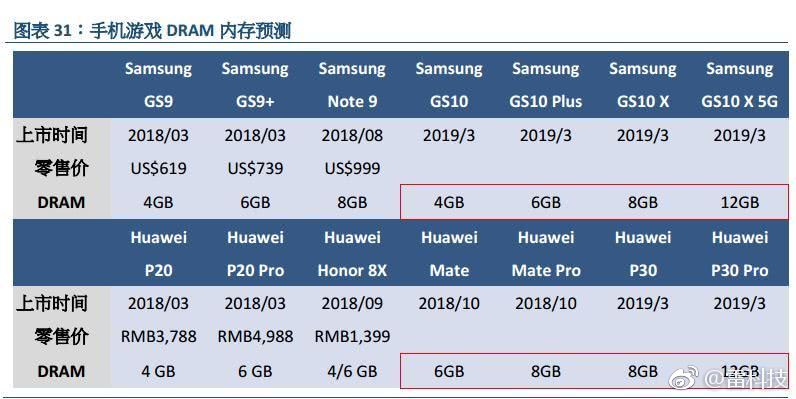 The first thing to note is the naming convention listed on the document. Earlier leaks have made mentions of a "Galaxy S10 lite," Galaxy S10, and two versions of the Galaxy S10+. This document lists the phones as Galaxy S10, Galaxy S10+, and then there are two versions of a "Galaxy S10 X." That said, we've seen documents leak plenty of times in the past from wireless carriers and other smartphone company partners that have listed incorrect phone names as placeholders. The authenticity of the document clearly cannot be verified at this time, but the user who posted it has leaked accurate information on occasion in the past.
If the leak is genuine, the biggest takeaway here is that the top-of-the-line version of Samsung's flagship Galaxy S10 won't just tout 5G compatibility as a marquee feature, it'll also have 12GB of RAM that could potentially offer performance benefits over other Galaxy S10 models. Of note, the leak also suggests that Huawei's upcoming P30 Pro will be available with 12GB of RAM. Unfortunately, Huawei phones still aren't sold in the US.