Samsung earlier this week unveiled the evolution of its Infinity displays designs, including screen versions for future Samsung phones with notch designs, the foldable phone's Infinity Flex display, as well as an exciting "New Infinity" screen I hoped we'd see on the Galaxy S10 next year. It turns out, however, that the dream of having phones with true all-screen designs will have to wait at least one more year, as that technology isn't yet ready. That doesn't mean the Galaxy S10 will have a notch at the top, just that it'll get the next best thing instead of a true all-screen design, as seen in the image above.
The Galaxy S10 concept above was created using the available teasers from Samsung as well as other recent Galaxy S10 rumors. Then at SDC18 on Wednesday, Samsung confirmed that it's indeed making displays with holes at the top — Apple, by the way, also has a patent on tech that allows manufacturers to drill holes through screens, which may be a telling detail for the future of its hardware.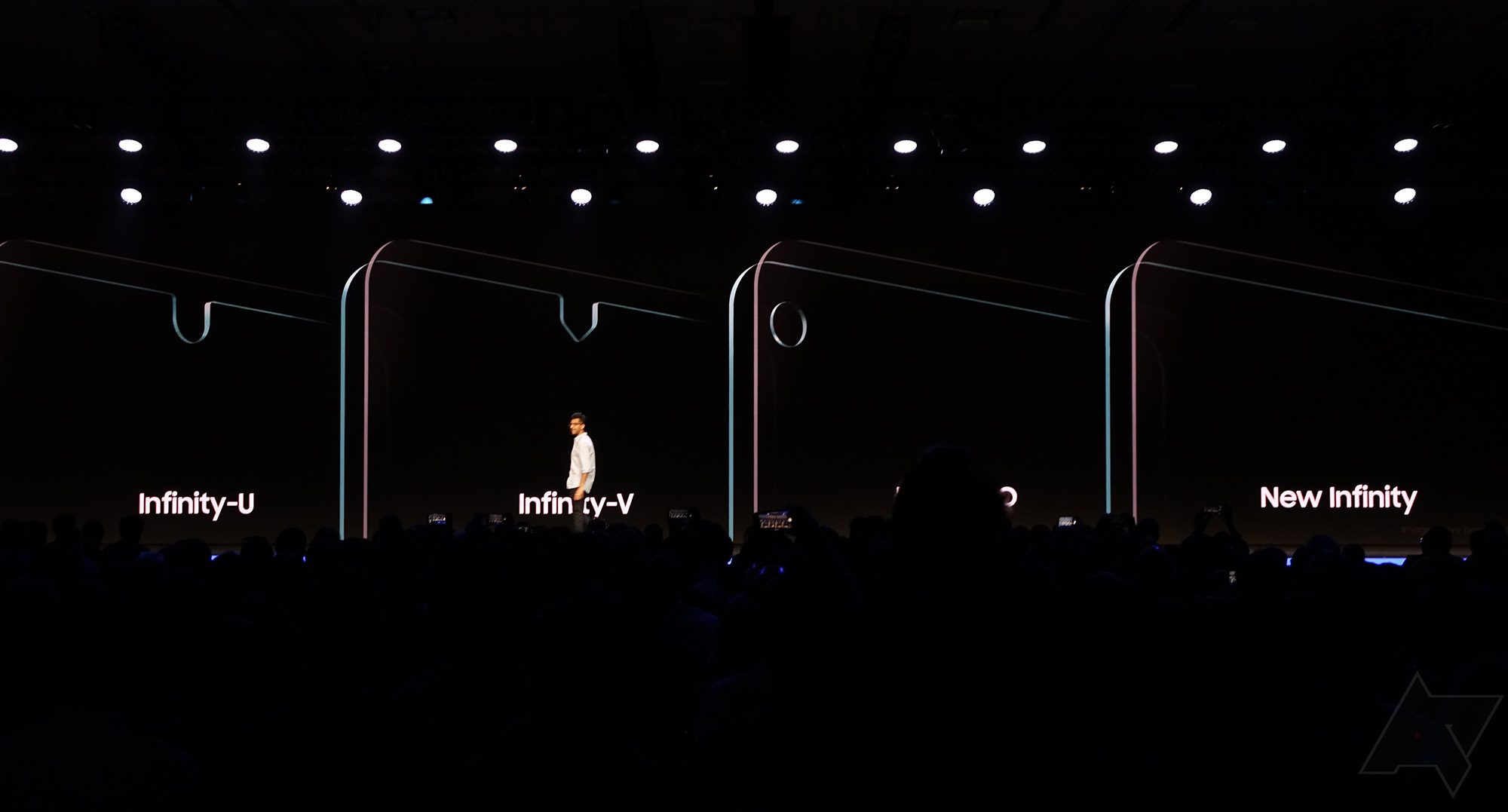 A Samsung insider we know by the Twitter and Weibo handle of Ice Universe said that he doesn't expect to see cameras behind the displays of smartphones until 2020. That's the kind of technology that would make the "New Infinity" screen in the image above possible.
The leaker says that the current camera technology that would let Samsung place a camera under the OLED screen is "immature," as not enough light is able to reach the sensor. As a result, selfies would be blurry and dark.
In a message before that, Ice said he thinks the Galaxy S10 will probably have an Infinity-O screen. A Bloomberg report a few days ago provided a similar detail about the phone's front-facing camera, and we had seen reports out of South Korea before then that said the same thing.
The ultimate design for smartphones is of course a device that has no bezels whatsoever. Apple has gotten very close to creating an all-screen design, but the notch at the top of iPhone X, XS, and XR phones cuts into the screen because current technology makes it impossible for display makers to include all the components inside the notch beneath the screen layers.
Samsung, which makes iPhone OLED displays, will get us even closer if that Infinity-O screen prediction turns out to be accurate. The screen would incorporate the fingerprint sensor as well as the speaker, while the O-shaped cutout would house the front camera. The one thing Infinity O phones won't be able to do is offer Face ID-like authentication, and that's because 3D facial recognition requires more components at the top of the phone, and they therefore need a bigger notch.