Well, Samsung fans, we have good news and bad news for you. The good news is the wait is almost over because Samsung is set to unveil its new Galaxy Note 9 flagship phablet in just two weeks. But the bad news is the Note 9 is shaping up to be just like the Galaxy S9 and Galaxy S9+ from earlier this year, minor iterative updates that look almost exactly the same and don't really offer much in the way of new features.
The response to Samsung's S9 duo has been tepid at best, and sales have suffered greatly as a result. Samsung fans are seemingly unwilling to pay hundreds of dollars to upgrade to a new smartphone that doesn't pack any notable new features beyond updates specs and a new camera. That strategy might work for Apple since there are no other companies that make iOS-powered smartphones, but there are obviously plenty of other Android phones to choose from. While it's true that Samsung's upcoming next-generation Galaxy Note 9 will be more of the same, a fresh new leak reveals that there is at least one way the Note 9 will be a big upgrade compared to its predecessor.
Thanks to months of leaks and rumors, we know practically everything there is to know about the Galaxy Note 9 at this point. The phone is set to be unveiled at a press conference early next month, and it will then hit store shelves on August 24th. That should give the Note 9 almost a month of sales before Apple's next-generation iPhones are released, but the extra time might not help very much considering the fact that Samsung fans might not find the Note 9 very appealing.
Samsung's new flagship phablet will be a solid upgrade when it comes to performance and specs, but the design is nearly identical to the Galaxy Note 8 from last year. Consumers weren't too pleased with that strategy when it came to the Galaxy S9, and sales took a big hit as a result. The Galaxy Note 9 could suffer the same fate. It'll pack a new S Pen stylus with some novel features enabled by built-in Bluetooth, but there isn't much else to speak of as far as worthwhile new features are concerned.
As it turns out, however, there will be at least one area where the Galaxy Note 9 is a huge upgrade from the Note 8. And it's a very important area, too. According to a new document found on a website run by the Brazilian telecommunications regulatory body Antel, the Galaxy Note 9 will feature a massive 4,000 mAh battery.
The Note 8 includes a 3,300 mAh batter, which is quite small for a phablet these days. The phone's predecessor had a larger 3,500 mAh battery, but we all know what happened to the Galaxy Note 7 so it makes sense that Samsung decided to play it safe last year. The Note 8 doesn't have bad battery life per se, but it can be difficult to get through an entire day of heavy use. With the upcoming new Galaxy Note 9, however, that probably won't be an issue at all.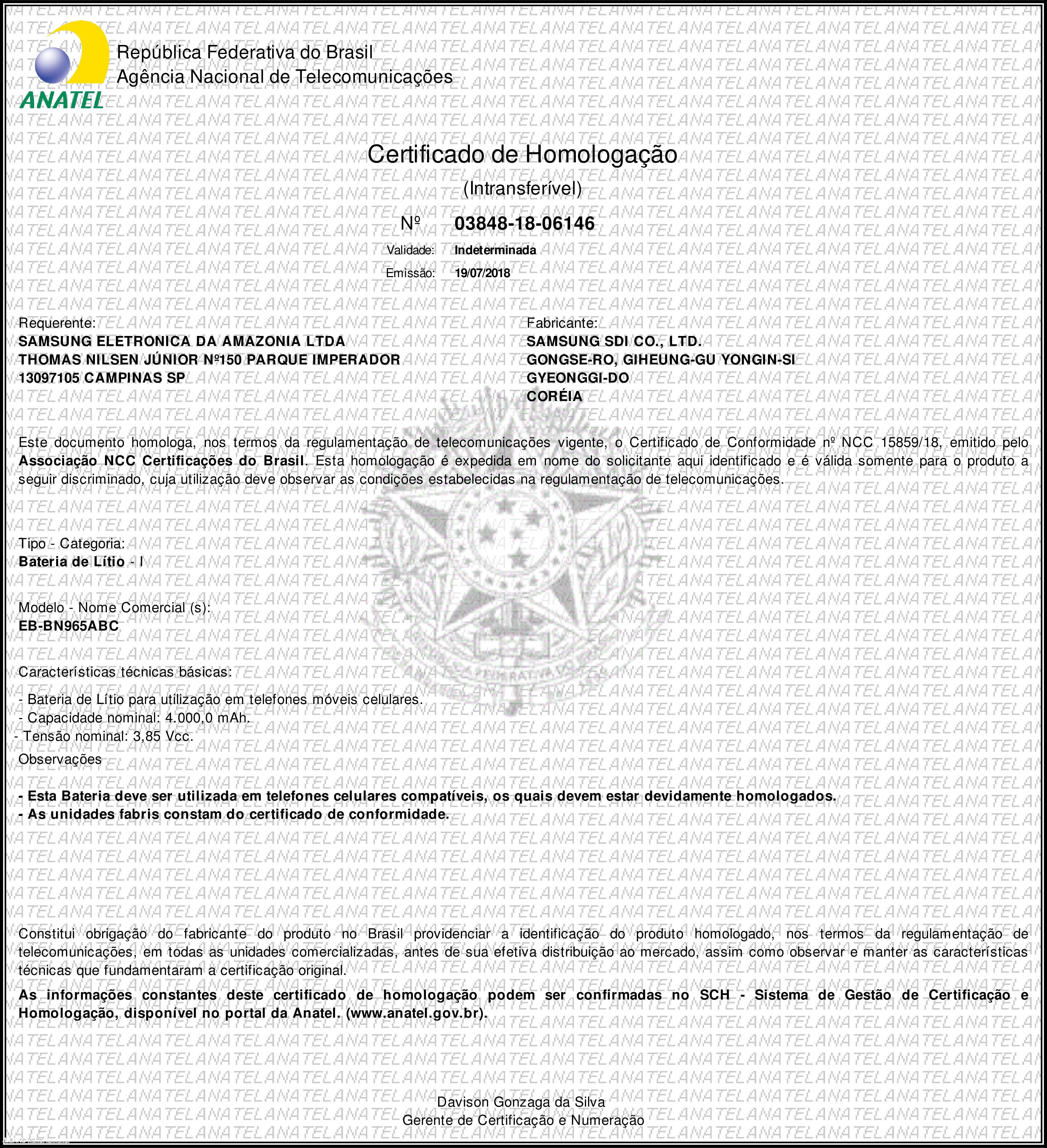 The image above was posted to Slashleaks, and it shows the aforementioned certification from Antel. The interesting part is about halfway down the page, where you can see that the Galaxy Note 9 has a 4,000 mAh battery. It is beyond impressive that Samsung managed to stuff 4,000 mAh capacity into a phone that's almost exactly the same size as the Galaxy Note 8. Beyond that, this phone should offer killer battery life when you consider that the 4,000 mAh battery will be coupled with even more efficient next-generation processors from Qualcomm and Samsung.
We have two weeks to go before this is officially confirmed, but Samsung fans can likely expect to get well over a day of battery life out of the Galaxy Note 9 following its launch next month.