Samsung's next-generation Galaxy Note 9 flagship phone is now just over a week away from being unveiled at the company's upcoming Unpacked press conference in New York City. It might seem like there's nothing left to learn about the new Note 9 after months of leaks and rumors flooded the web, but there actually are a few remaining question marks. For now, at least. If history has taught us anything it's that all of the remaining blanks will likely be filled in over the course of the week to come, which certainly wouldn't surprise anyone considered the fact that the Galaxy Note 9 is unquestionably the worst-kept secret in the industry right now. We've seen the design leak more than a dozen times, we've seen the specs reported over and over again, we know the phone's release date, and we know about all the changes Samsung has in store for its flagship phablet in 2018.
As we mentioned, however, there are still a few remaining questions. We've learned in recent weeks that the Galaxy Note 9 will feature a brand new S Pen with built-in Bluetooth, enabling a number of new features that have never been seen before on a Samsung stylus. We still don't know exactly what those features are, however, and we don't know what kind of battery life the new S Pen will have or what type of charging system it'll support (though we can assume it'll charge while docked). Another, more important question mark surrounding the Galaxy Note 9's launch is the price. We've seen a number of price leaks in other markets that say the phone might be far more expensive than last year's Note 8 was at launch, but now a new leak suggests things might not be as bad as we thought.
As we saw earlier this year when Samsung released the Galaxy S9 and Galaxy S9+, launching at the wrong price can be an instant momentum killer. Samsung's 2018 Galaxy S phones are modest updates, to put it very kindly, and yet they were released at prices that were much higher than carriers and retailers had ever charged before for a Galaxy S phone. Between the price tags and the lack of any compelling new features, sales were extremely slow out of the gate. The phones both got big price cuts just one month after they were released, but by then it was too late. Now, it's looking like the Galaxy S9 and S9+ will be Samsung's worst-selling Galaxy S phones since 2012.
Will Samsung make the same mistakes with the Galaxy Note 9? We already know that the Note 9 will be a somewhat modest upgrade like the S9 and S9+ were compared to last year's models, though things might not be quite as bad with the new Note phone. Leaks suggest it'll have a much larger battery at 4,000 mAh, and the upgraded S Pen should introduce a few intriguing new features as well. It's still unclear how much the phone will cost at launch, but a new leak at least gives us some hope that Samsung has learned from its mistakes with the S9 launch.
Leaks over the past few weeks have suggested that the Note 9 will be quite expensive in other markets, launching at the local equivalents of $1,159 in Poland, $1,204 in Italy, and $1,229 in Germany. We all know that international pricing never correlates directly with pricing in the United States, but it certainly appears as though the Galaxy Note 9 could launch with a heftier price tag than last year's Note 8, which cost $950 when it was released.
The latest price leak could bring some better news, however. A user on Chinese microblogging site Weibo got his hands on what appears to be a promotional launch flyer from Indonesia, and it says that the phone will start at 13,500,000 Indonesian Rupiahs when it's released next month. That converts to about $937 at Monday's exchange rate, which is far less than we've seen in earlier leaks.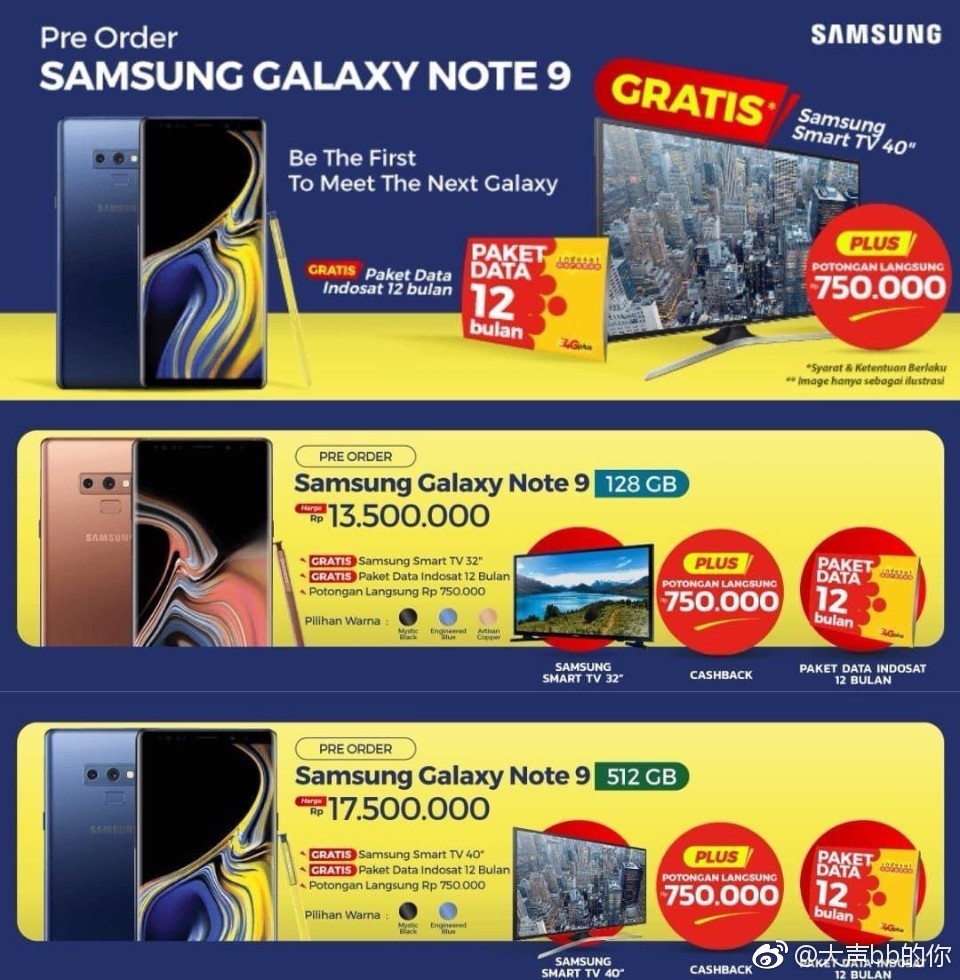 Again, this leaked promotional flyer doesn't mean that the phone will cost the exact same amount in the US when it launches in the coming weeks. But it does at least give us an indication that pricing will vary dramatically from market to market, and it's possible the Galaxy Note 9 pricing could be in the same ballpark as last year's Note 8. Also of note, the Indonesian flyer shows that customers get a free 32-inch or 40-inch TV with their Galaxy Note 9 purchases. Samsung never uses the same promotions in every market, but it appears as though we can look forward to some intriguing launch promotions when the phone hits store shelves.
Samsung will unveil the new Galaxy Note 9 during a press conference on August 9th in New York City, and the phone is expected to be released two weeks later on Friday, August 24th.