Among Android fans, there are pretty much only three exciting smartphone launches left this year. One is the Essential phone, though that's mostly just morbid curiosity — not many people are actually going to buy one. The second is obviously Google's upcoming second-generation Pixel phone launch, which will yield two new handsets expected to be called the Pixel 2 and Pixel 2 XL. Finally, we have the big one that's coming next week: Samsung's new Galaxy Note 8.
Expectations couldn't be higher for Samsung's new flagship phablet, and the company has plenty to prove following last year's Galaxy Note 7 debacle. Now, with just over a week left to go until Samsung's new Galaxy Note 8 is unveiled, the phone's specs and features were just confirmed in a big leak.
When Samsung executives take the stage next Wednesday to unveil the company's hot new handset, nothing they announce will come as a surprise. Every detail imaginable has already leaked at this point, though some details have come from unproven sources.
Well, if there was any doubt left in our minds regarding the Galaxy Note 8's specs or features, today's leak should do the trick.
GFXBench on Tuesday posted the results of a benchmark test that was run on the Exynos-powered version of Samsung's new flagship phone. As is always the case, the phone's specs and features were recorded by the system when the test was being performed. Here's a screenshot of most of the data that was provided: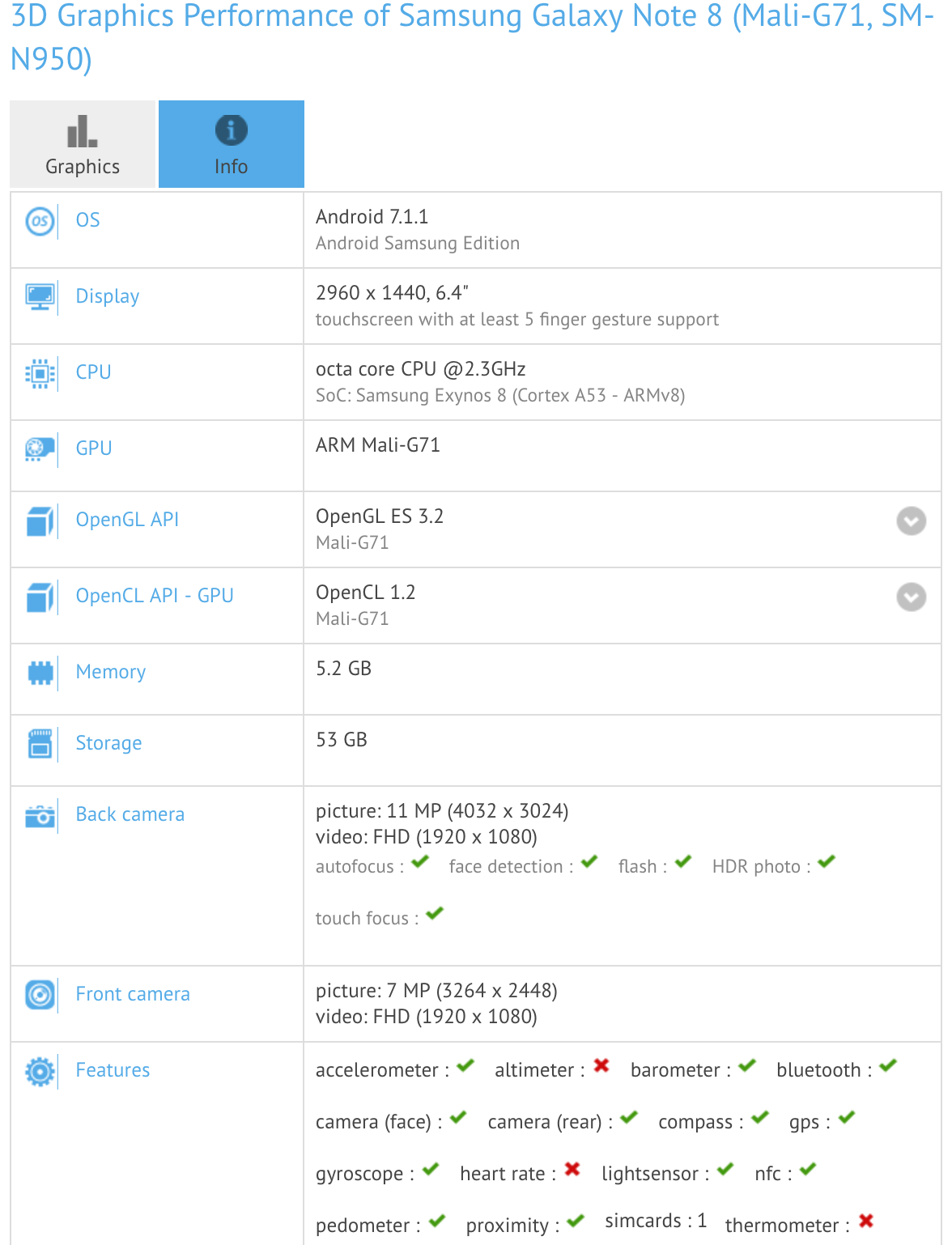 Starting at the top, we can see that the Galaxy Note 8 will ship with Android 7.1.1 Nougat, thought Samsung is likely already testing Android O on the device for a future update. The display will measure 6.4 inches diagonally and will sport Quad HD resolution, and this particular model features an octa-core Exynos processor. The US version of Samsung's Galaxy Note 8 will be powered by a Snapdragon chipset.
6GB of RAM and 64GB of storage are both confirmed in this leak, as a huge chunk of the Note 8's feature list. You can check out the GFXBench listing for yourself right here.