Samsung's Galaxy S8 and Galaxy S8+ are the two most stunning smartphones that have ever been created. With that in mind, it stands to reason that the upcoming new Galaxy Note 8 will steal the crown when it's finally unveiled next month. Based on what we know so far, the Note 8 will build upon the Galaxy S8's design, offering an Infinity Display with an even better screen-to-body ratio than the 83% achieved by Samsung's current flagship phones. The Note 8 will reportedly also offer other key improvements, such as a dual-lens rear camera and an updated suite of features that make use of Samsung's S Pen stylus.
BGR confirmed the Galaxy Note 8's design late last month with an exclusive leak. That same leak also answered one of the biggest remaining questions surrounding the Note 8, and now that answer has been reaffirmed in a freshly leaked image. Sadly, it's not the answer users were hoping for.
When rumors first began popping up about the Galaxy Note 8, reports claimed that the phone would be Samsung's first to include an in-display fingerprint scanner. The company reportedly wanted to include a next-generation optical sensor in the Galaxy S8 and Galaxy S8+, but manufacturing difficulties forced the company to use a traditional scanner on the back of the phone next to the camera cluster. Yes, that's the worst possible place for it.
So, with the Note 8, fans were looking forward to seeing this bothersome design issue addressed. Sadly, as BGR confirmed with our exclusive leak last month, there's still no in-display fingerprint sensor in sight from Samsung. Instead, the scanner will once again be placed on the back of the phone next to the camera cluster. And this time, it's an even bigger phone with a wider dual-lens rear camera, so the scanner will be even more uncomfortable to reach.
A few people may have been holding onto hope that our sources were wrong and Samsung might find a way to embed the scanner into the display. Sorry folks, it's just not going to happen. Yet another leak on Wednesday from a source with a solid track record shows an image of a Galaxy Note 8 in a third-party case, and the fingerprint scanner can clearly be seen on the back of the phone.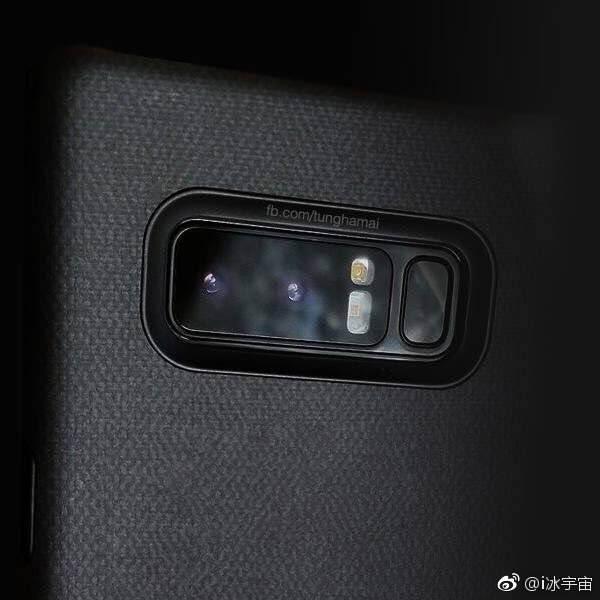 Samsung is expected to unveil the Galaxy Note 8 during a press conference in late August. The phone should then be released in early September ahead of the iPhone 7s, iPhone 7s Plus, and iPhone 8.