Android fans, you're now officially one day away from seeing the hottest phablet in the history of phablets hit store shelves. Some shipments went out a little early and retailers in some markets actually began selling the Note 7 a week early, but Friday is Samsung's official launch date for its brand new Galaxy Note 7 smartphone.
If you read our in-depth Galaxy Note 7 review, you know that we were absolutely blown away by Samsung's latest new handset. It features an incredible design, outstanding software features and killer performance that ranks among the best in the world. But as it often does, Samsung is releasing two different versions of the Galaxy Note 7. Will the US finally enjoy the more powerful model this year, or will the trend continue and see Samsung's international version outperform the US model?
MUST SEE: The 7 best features on Samsung's Galaxy Note 7 (none of which are on the iPhone)
Samsung designs and builds its own mobile processors, but it doesn't always use them in its smartphones. In versions of its flagship phones that are sold in the United States, the company often uses Qualcomm chipsets instead to cut down on the network licensing fees it has to pay.
Versions of Samsung smartphones powered by Qualcomm Snapdragon processors are generally on par with versions powered by Samsung's own Exynos chipsets, but in the past we've often seen the edge go to Exynos in terms of both performance and battery life. While the jury is still out on battery life, mobile blog PhoneArena put both versions of the Galaxy Note 7 to the test to see which one outperforms the other.
Here are some charts that show the test results, with scores from the Galaxy Note 5 and Galaxy S7 edge mixed in as well: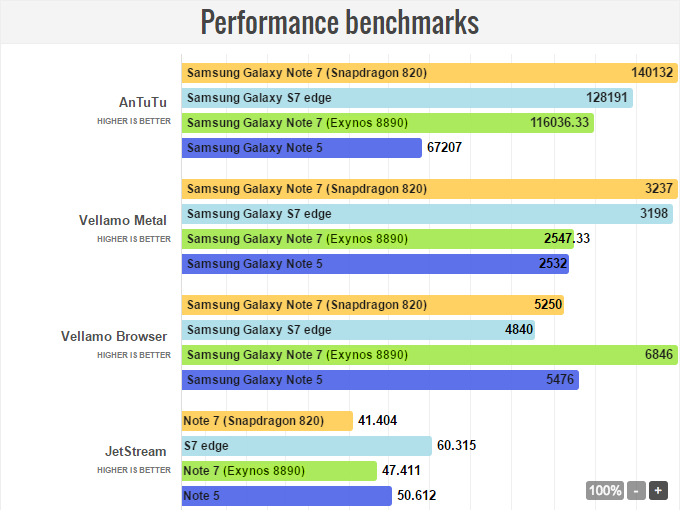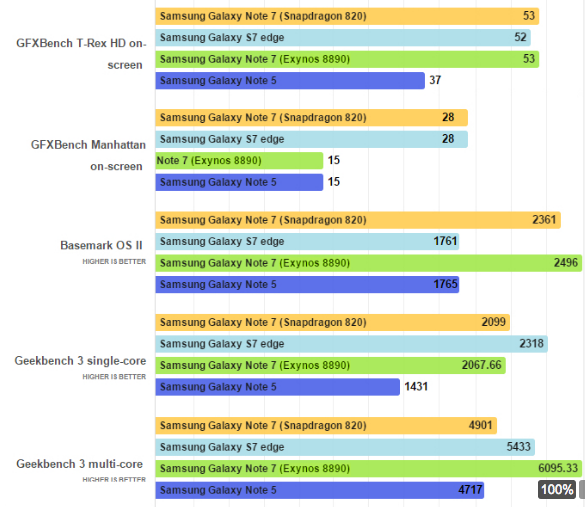 Each model outscored the other in some tests but overall, it looks like the performance edge clearly goes to the Snapdragon 820-powered US version of the Galaxy Note 7.