Samsung's eagerly anticipated next-generation flagship phablet is finally official.
During the company's "Unpacked" press conference in New York City on Tuesday, Samsung unveiled the Galaxy Note 7. The new phablet looks like a combination of last year's Galaxy Note 5 and Galaxy S6 edge+, and that's basically what it is. Everything has been refined, however, and the result is a flagship device that we're already comfortable calling the greatest phablet the world has ever seen.
We've already managed to get our hands on the new Galaxy Note 7… and now it's time to find out when you can get your hands on one.
MUST READ: Galaxy Note 7 hands-on: Killer phablet features the iPhone still can't touch
Samsung's Galaxy Note 7 is more than just a pretty face. Inside that sleek glass and metal handset lie a 5.7-inch Super AMOLED display with 2K resolution, a Qualcomm Snapdragon 820 processor, 64GB of UFS 2.0 storage, 4GB of LPDDR4 RAM, microSDXC support up to 2TB, a 12-megapixel rear Dual Pixel camera, a 5-megapixel front-facing camera, a 3,500 mAh battery, IP68 water- and dust-resistance, and Android 6.0.1 Marshmallow.
There's also a new iris scanner for added security in addition to the fingerprint scanner in the home button, and a new and improved S Pen stylus with a .7mm nib that feels almost like a ballpoint pen when you write.
Plenty of those details were already widely known ahead of today's event though, since Galaxy Note 7 leaks and rumors have been flowing like a river for the past few weeks. What no one knew until today was exactly when the new Note 7 would be released.
Samsung confirmed on Tuesday that the new Galaxy Note 7 will launch on August 19th, and will be available from all major wireless carriers in the United States. The phone will also be sold by several non-carrier retailers including Best Buy and Amazon. If you like what you see and you don't need to wait to get your hands on the phone before buying one, preorder availability begins tomorrow, August 3rd, on Samsung's website and elsewhere. Also of note, those who preorder the phone can choose either a free 256GB microSD card or a free Gear Fit2 smartwatch with their purchase.
The phone will be available in tree colors in the US, including black, silver and Blue Coral, which includes rose gold metal around the perimeter of the phone. Pricing will be announced by individual carriers throughout the morning, and the Note 7's full specs follow below for reference.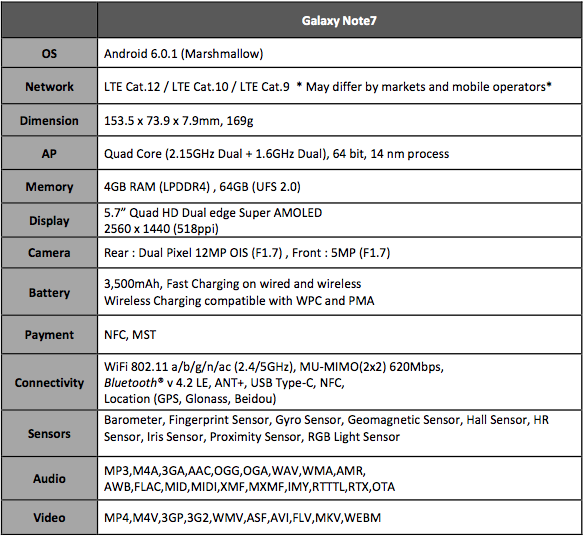 Updated to clarify processor model.