Samsung probably isn't happy with all the bad publicity the Galaxy Note 7 is getting due to its faulty batteries that keep exploding, but the Korean giant is looking to change things around. Samsung promised that it would replace each one of the 2.5 million units it shipped to carriers and customers so far, and resume sales as well as its international rollout. Today, the company is back with more details about the replacement process.
DON'T MISS: iPhone 7 preorders: We have entered a parallel universe
Samsung on Friday announced via its Australian arm that replacement stock of the Galaxy Note 7 will be available in Australia from September 21st. If you're looking to buy a Galaxy Note 7, you'll have to wait until early October to get one.
Samsung also provided information on how to identify a replacement unit and tell it apart from a Galaxy Note 7 that has the bad type of battery inside. The new Galaxy Note 7 packaging has identifiers on the box, including a small black square on the white barcode label and a white sticker with a blue "S" on it, as seen below.
These markings should help both shops and buyers make sure that the units being offered as replacements or sold as new Galaxy Note 7 models have a safe battery.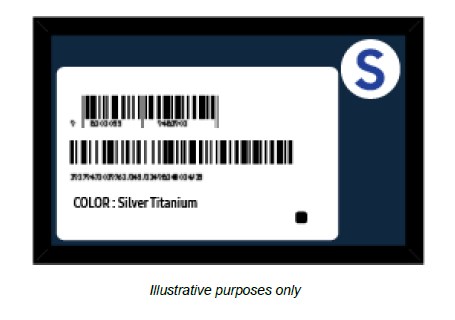 If that's not enough, then you can use the phone's unique IMEI to verify that you're indeed receiving a newer, safer unit as a replacement.
More details for Australian Galaxy Note 7 owners are available at the source links below. It's likely that Samsung will soon begin to deliver replacement Galaxy Note 7 units to other markets as well, but so far there haven't been any other announcements from the company.