Samsung's Galaxy Note 7 recall is not complete, as there are hardcore users who're still using the phone in spite of warnings. The Galaxy Note 7 poses a bigger fire risk than any other handset made to that, and Samsung is looking to collect units that are still in use. To that end, Samsung is looking to force existing Galaxy Note 7 owners to replace their handsets, or seek a refund. After launching extreme measures in New Zealand and Australia, Samsung is now eyeing Canada and the US with similar policies.
In Australia, Samsung announced that the Galaxy Note 7 will not work on cellular networks in the near future. But the company is taking even harsher steps in America to make sure owners can't use the device. According to a leaked message from US Cellular, seen by The Verge, Samsung looks to issue an update that would prevent the phablet from charging.
"As of December 15th, Samsung will modify the software to prevent the Galaxy Note 7 from charging. The phone will no longer work," the text reads.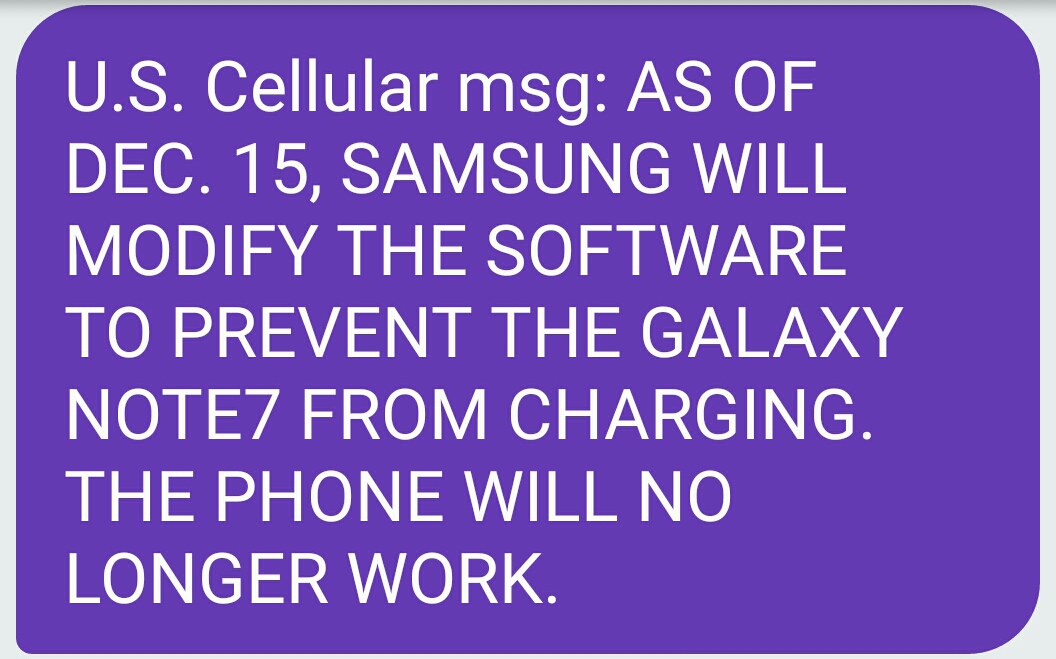 A few weeks ago, Samsung issued an update that prevented the phone from charging beyond 60%. But this rumored update will make the handset unusable.
In Canada, meanwhile, Samsung will cut Wi-Fi, Bluetooth and cellular connectivity starting with December 15th, Samsung announced a few days ago. That's one other way to render the Galaxy Note 7 useless.
Samsung did not issue any announcements for the US market.