Do pickup truck buyers have an eye for luxury? Ford is betting they do, and it's going to put its money where its mouth is with its all-new 2018 F-450 Super Duty Limited 4X4 which, when fully decked out with all of its top-of-the-line options, will set you back nearly $100,000.
The new truck, which Ford says is for everyone "from boat captains to captains of industry," is absolutely packed with features that you probably wouldn't even think to expect in a pickup truck. There's heated and ventilated leather seats, a panoramic moonroof, heated leather steering wheel, and adaptive cruise control and steering.
The four-door F-450 Super Duty Limited obviously also comes packed with a suite of features that make it a capable work truck, like a 360-degree rear camera, a locked storage space, and quad-beam LED headlamps. All that fancy gear is powered by a 6.7-liter V8.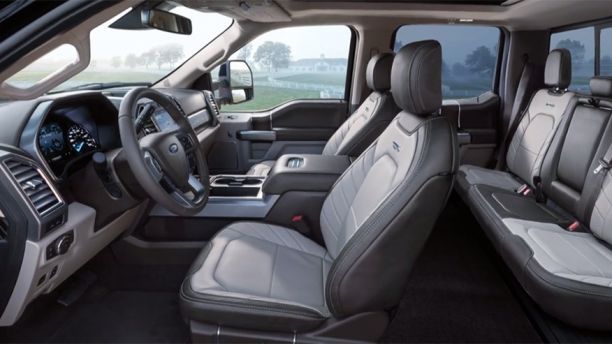 It's a marriage of utility and luxury that you don't often see, and that's reflected in its astronomical price tag. The vehicle starts at $87,100, and the fully loaded model is priced at $94,455. Add on dealer fees and taxes and you'll easily be looking at a hundred grand to drive one of these beauties off the lot.
"Imagine opening the door to your humidor and sinking into your favorite leather lounge chair – that's the sensation new Super Duty Limited inspires," Ford design manager Aileen Barraza said in a press release. That's an interesting way to describe a work truck, but if Ford wants to take the gamble, more power to them. The new luxury pickup is slated to arrive this winter.