You may have seen news stories earlier this week saying that Trump and Putin were seen together in Switzerland before the election. That would not bode well for a Trump administration that's already perceived as being closer to Russia than you'd expect. However, before you spread the nonsense yourself, you should know that this is a classic case of fake news. It's been confirmed to be fake, and it's all part of a massive plot to promote a movie.
Ironically, this particular piece of fake news was conceived by the same company that Trump trusts most when it comes to the news.
Initially discovered by BuzzFeed , the fake news campaign was supposed to promote 20th Century Fox film A Cure for Wellness. We've already seen some trailers for the movie, which tells the story of a fake wellness retreat in Switzerland where treatments aren't really what they seem.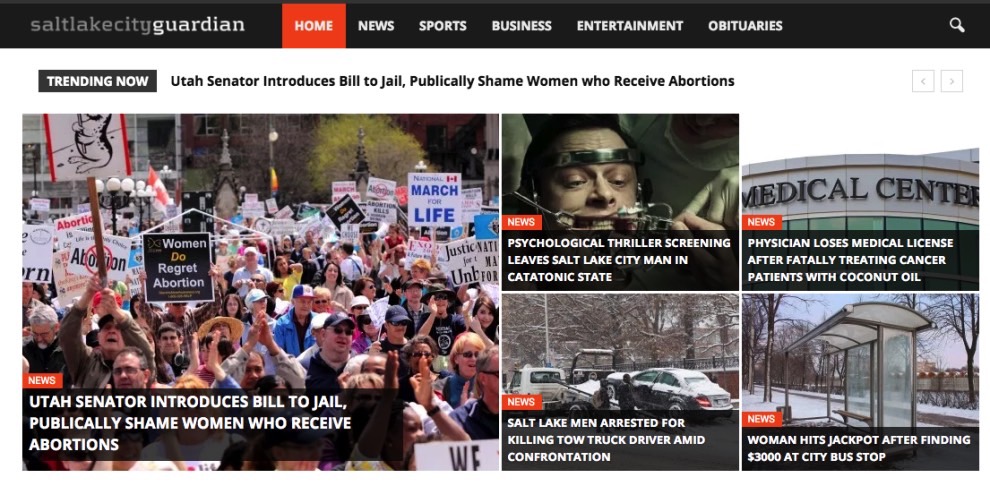 The campaign does deserve some credit for the idea. However, given the current political climate, one that is believed to have been heavily influenced by fake news ahead of the election, it's not necessarily the best choice. Especially considering companies like Google and Facebook are taking steps to prevent the fake news from going viral.
Meanwhile, BuzzFeed explains the fake news sites that were set up by the movie producers spread out false news that isn't related to the film. Moreover, the reports were not even identified as fake news.
Here are some of them, as listed by The New York Times:
"Utah Senator Introduces Bill to Jail, Publicly Shame Women Who Receive Abortions"
"BOMBSHELL: Trump and Putin Spotted at Swiss Resort Prior to Election"
"LEAKED: Lady Gaga Halftime Performance to Feature Muslim Tribute"
"Trump Refuses to Provide California Federal Support in Midst of Natural Disaster, Cites Sanctuary Cities"
"California Legislature to Consider Tax Rebates for Women Who Get Abortions"
The biggest fake story among them was the Lady Gaga report, which generated more than 50,000 shares, reactions and comments on Facebook, according to BuzzFeed.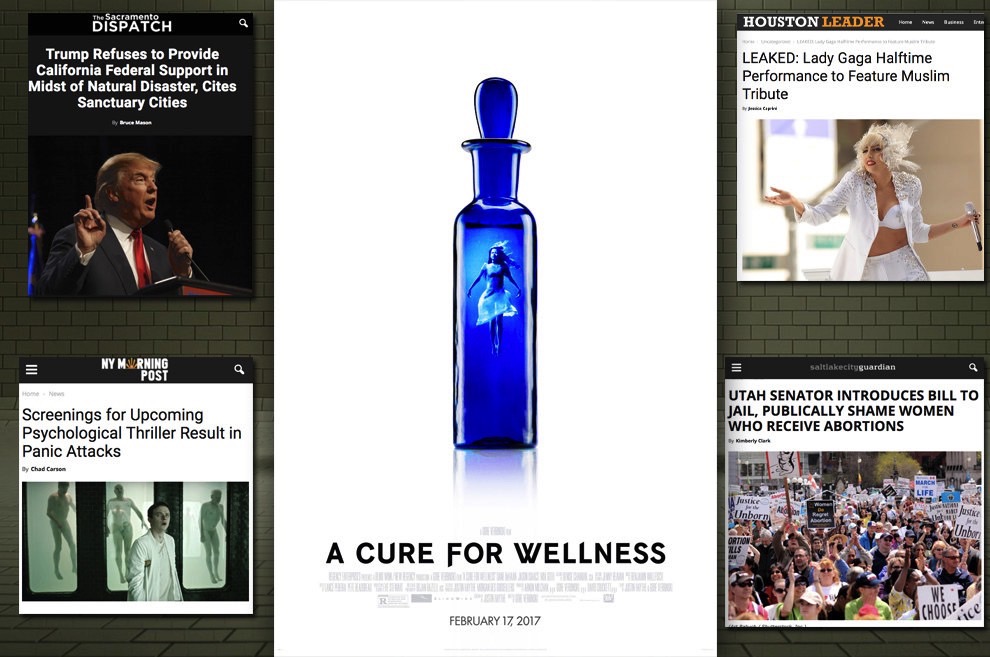 The studio used five sites to spread the fake news, including The Sacramento Dispatch, Salt Lake City Guardian, Houston Leader, NY Morning Post and Indianapolis Gazette. The marketing team even created a HealthCureGov.com site designed to resemble the official HealthCare.gov site.
Most of those sites were redirected to the film's official website after BuzzFeed's report.
"A Cure for Wellness is a movie about a 'fake' cure that makes people sicker," a Regency Enterprises spokesperson said. "As part of this campaign, a 'fake' wellness site healthandwellness.co was created, and we partnered with a fake news creator to publish fake news."
What's really ironic about this campaign is that it's Fox that has to take the blame, which owns the one major network that Donald Trump trusts for news. Just the other day, the president had this to tweet in the midst of the Flynn/Russia scandal:
https://twitter.com/realDonaldTrump/status/831830548565852160
Well, Mr. President, you'd better make sure you double-check your news moving forward, even if it comes from Fox.