This ain't your free dentist toothbrush, folks.
If you're serious about the health and wellbeing of your pearly whites, it's time to get serious about your toothbrush. Electronic toothbrushes slowly became the household standard across the county over the last few years, and now with constant advancements in healthy-habit tracking and household item connectivity, it only makes sense that the toothbrush would continue to evolve as well.
Enter: the Phillips Sonicare FlexCare Platinum Connected toothbrush — the new Godfather of toothbrushes. With practical cleaning prowess and a tracking app that shames any would-be competition, Phillips has developed the most impressive toothbrush to date. Let's dive into specifics!
Let's start with the obvious — it's a solid toothbrush. When it comes to maintaining a winning smile, you want a toothbrush that comprehensively cleans every tooth. The Sonicare FlexCare Platinum includes an "AdaptiveClean" brush head that boats 10 times more plaque removal than a manual brush. The state of the art toothbrush also features three cleaning modes: clean, white, and deep clean, as well as three incremental intensity levels.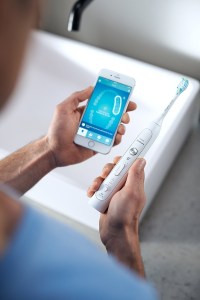 At this point, you may be wondering: "why exactly is this toothbrush recommended by a tech website?" Let's take a look at some of the more impressive technical specs of this Phillips toothbrush.
This bluetooth-connected toothbrush is a little bit like having a dental hygienist in the bathroom with you at all times. You know, in the least creepy way possible. The Phillips Sonicare app, available on both Apple and Android, offers in-depth tracking of your brushing habits. The toothbrush includes location, pressure, and scrubbing sensors, which allow the app to map out the areas in your mouth that need some work. Think: if you always quickly skip over one of those pesky molars, the Phillips Sonicare app will keep you in the know.
From top to bottom, the app is impressive. Especially considering, you know, it's made for a toothbrush. A total rundown of what the app offers includes 3D mapping for a post-brush analysis of your teeth coverage, suggested touch-ups, daily goals and tracking, brush replacement alert, and optional focus areas and a progress report that involve your dentist, if you decide to go that in-depth. Unfortunately, the toothbrush doesn't offer real-time assistance while you brush your teeth, which can get a bit annoying. But still, the post-brush info is far more than your old plastic toothbrush would give you and can go a long way in helping you build a regimen to maintain a healthy smile.

Beyond the fancy tech wrapped up in this $164 package, customers also receive a separate InterCare brush head, a road-ready travel case, and other necessary accessories to maintaining your dental investment.
At the end of the day, this toothbrush is deluxe, and not made for everyone. At its price point, it's certainly a hefty chunk of change for keeping your teeth clean. But if you're looking to improve your teeth brushing habits and impress your dentist at the next checkup, the Phillips Sonicare FlexCare Platinum Connected toothbrush is definitely something to smile about.