How is it already February?! Time is flying in 2017, but don't let the days slip by so fast that you miss out on our daily lists of paid iPhone and iPad apps on sale for free. We've got 10 fresh apps for you today, and you'll find them all laid out below.
These are paid iPhone and iPad apps that have been made available for free for a limited time by their developers. There is no way to tell how long they will be free. These sales could end an hour from now or a week from now — obviously, the only thing we can guarantee is that they were free at the time this post was written. If you click on a link and see a price listed next to an app instead of the word "get," it is no longer free. The sale has ended. If you download the app, you will be charged.
MagicShrink
Normally $1.99.
With MagicShrink app you can losslessly compress all your JPEG photos, and get extra ~10% free space from original library size.
If you don't worry about superquality you can use lossy compression to get even more space.

Features:
– smart algorithm for lossless compression
– lossy compression
– batch image processing
– preserves exif data
Roofbot
Normally $2.99.
Guide Roofie through gorgeous, meditative rooftops and try to get the right color energy balls into the proper slots to solve the puzzle. But beware — the architecture changes as you interact with it so think ahead. Every step you take may lead you closer to the goal, or trap you on the roof forever.

Explore gorgeous audio and fantastic, hand-crafted architecture while trying to figure out ever-more-cunning puzzles.

Work your way up the rooftops and face off against the uber-bot who is greedily funneling away all of the power, causing bug after critical bug.

Playing is easy — just swipe in the direction you want to go. But winning — not so easy!

Only you can save the system from a devastating crash!
Plann
Normally $8.99.
** Award Winning App **

– 'Best Social / Lifestyle App, Summer 2016' – Best Mobile App Awards
– 'Peoples Choice – Startup of the Year AU/NZ 2016' – Startup Daily

Design. Plann. Visualize. Schedule.

You need to grow your Instagram account, increase your brand awareness, lift your engagement rate and make sales. You've seen the competition and you need to get ahead, you already feel like you're falling behind and you don't think you have the time. We've got you.

PLANN is a powerful Instagram strategy tool for visually planning, previewing, organising and scheduling your Instagram feed in advance – proven to increase the growth of your followers, raise engagement rates and generate stronger sales.

Join thousands of professional Instagrammers already endorsing Plann as their Instagram secret weapon.

Features include:

• Visually design your feed with our seamless DRAG & DROP feature
• Expertly brand your Instagram gallery in a single glance
• Never get stuck thinking of content on the spot, Plann weeks in advance
• Manage multiple galleries
• Save time by drafting captions and scheduling Instagram posts ahead of time
• Push notifications let you safely post without compromising your account
• Manage and save sets of hashtags for posting at crucial times
• Zoom in on images for more detail
• Video support up to 60″
• No monthly limits – Plann holds 120 images at a time and allows unlimited posts on paid plans

Plan ahead if you're a:
– Business of any size
– Entrepreneur
– Creative, Influencer or popular Instagrammer
– Looking to monetize your account
– Passionately proud of your instagram account
Having a consistent and eye catching IG feed is the difference between you and your online competition. Make it easier to appeal to new followers, remember, you only have a split second to make an impression – make it count.

Why spend hundreds of dollars on a guide that tells you how to curate your feed when you can get immediate results right now? Plann, the best iOS Instagram preview app, instantly shows how your images and colour schemes fit together while easily creating a gorgeous, cohesive and branded feed.

Beautifully simple, Plann seamlessly helps you design a cohesive instagram gallery with an easy to use drag and drop feature, allowing you complete control, and an easy way to manage your hashtags.

Plann, our award winning scheduling app was created by an advertising expert with an incredible passion for the Instagram community. We've built you something beautiful that helps simplify your content management and align to your content plan.

NOTE: Instagram does NOT allow automatic posting from 3rd parties and we will not compromise your account by doing this.

BASIC PLANN – Manage 1 account
US$3p/m (3 month subscription) or $4 month to month

PREMIUM PLANN – Manage 3 accounts
US$5p/m (3 month subscription) or $7 month to month

UNLIMITED PLANN
US$9p/m (3 month subscription) or $12 month to month

Payments will be charged to your iTunes account after confirmation of purchase. Your subscription will automatically renew unless cancelled at least 24-hours before the end of the current period.

Your subscription can be managed in your iTunes Account Settings after purchase, or in Settings under "Subscription" Subscriptions cannot be cancelled for the current active period.

Any unused portion of a free trial period, if offered, will be forfeited when the user purchases a subscription to that publication, where applicable
iSchool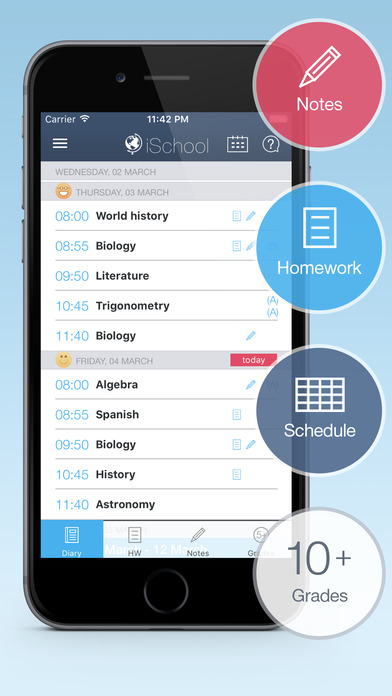 Normally $2.99.
i-School is a study organizer and Timetable Schedule Planner, both for schools and universities. Very minimalistic but has everything you need. Convenient class and study-schedule, textbooks, homework and notes are attached to classes; homework notifications, grades, grade's average. Take a pictures or use voice recording as a note. Very simple. Very useful.

With i-School you can:

– Download your favorite textbooks and attach them to the classes;
– Keep track of your study Timetable Schedule, make audio and text notes during your classes
– Track your tasks – homework, assignments and get notified in advance about deadlines
– Keep your grades, compute a grade average by semesters and overall
– Share you homework through the social networks or bluetooth interface
CleanUp Pro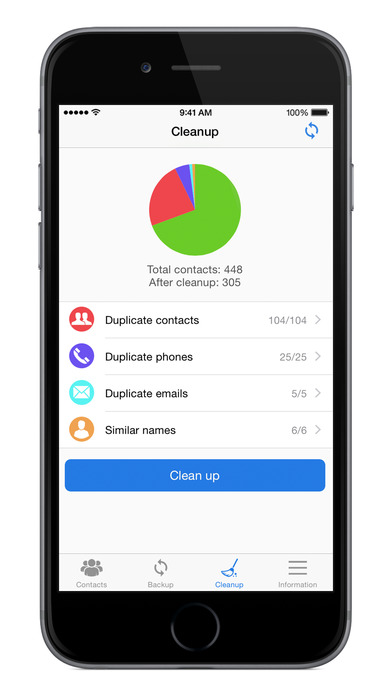 Normally $0.99.
Your contacts are the most important data on your phone. But eventually address book easily becomes messy, if not constantly updated. "CleanUp" helps you merge duplicate contacts and keep your contacts in a safe place.

CLEANING THE CONTACTS
• Remove duplicate contacts
• Merge contacts with similar names
• Merge contacts with the duplicate phone or email
• A preview of the result of the merging and manual selection of contacts

BACKUP
• One tap to backup your contacts
• Quickly export your backups by Email or iTunes
• Restore all the contacts at once or manually selected contacts
• 

Offline backup. No need to sync to any server. Just email the backup file to yourself
• Easily transfer contacts between iOS Devices using just an email client
• All contacts can then easily be restored any time by simply opening the .vcf file in your mailbox

This app will make your address book neat and easy to use.
Doodles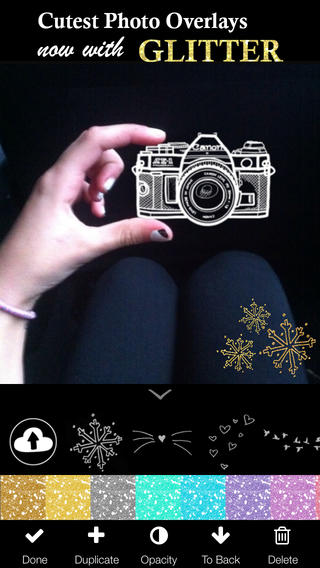 Normally $0.99.
Doodles — the easiest way to add beautiful, hand drawn designs to personalize your photos from artists all over the world.

● Use the artwork from our huge library built by the Doodle community. Find illustrations and captions that are inspirational, funny, cute, seasonal, and much more.

● Easily import the overlays and images you discover on Tumblr, Instagram or anywhere on the web into Doodles — it's the fastest, easiest way to do so!

● Add your own sketches to Doodles to create beautiful graphics that are easy to layout and color!

● As an artist, share your work with a global community AND get credit, as every design is auto-tagged with your personal hashtag. Have fun seeing how people are using your art on their pictures. And grow your follower base both on Doodles and Instagram.
Stationery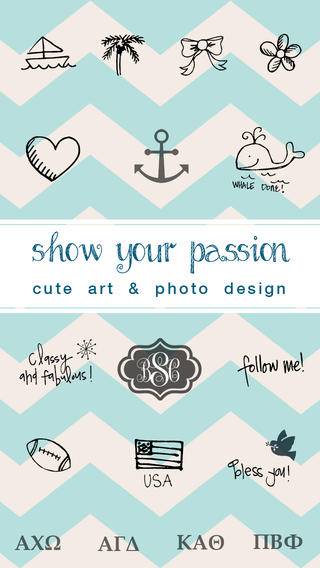 Normally $0.99.
Unlock your inner preppy artist with Stationery. Get creative with easy tools, trendy backgrounds and fun, themed stickers that express YOU!

FEATURES
* Beautiful backgrounds, such as chevron, bokeh and blur.
* Sticker packs that show your passion — states, preppy, faith, sorority, 'merica, doodle, love, monogram frames & more!
* Frames for ombre, aztec & other final flourishes
* Design your monogram in many styles
* Use your own photo as a background too!

THE POSSIBILITIES ARE ENDLESS
for more popular Instagram & social media posts, DIY greeting cards, uniquely-you iPhone lockscreens & more! Make…
* Adorable art
* Inspirational quotes
* Monograms!!
* A picture says a thousand words — send pretty messages to your followers
* Personalize your photos with doodles and captions

FRESHLY MINTED
Looking for inspiration? Check out the creations by Stationery community members. Contribute your works to be remixed by others too!
Scanner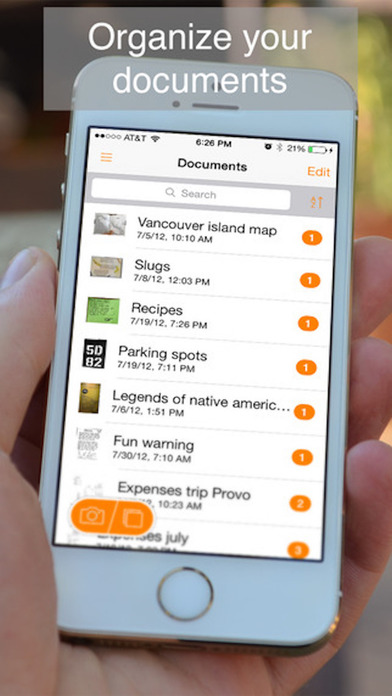 Normally $0.99.
Our scanner technology includes smart page detection, perspective correction and image enhancement. In addition, Genius Scan offers powerful tools to organize and safely export your documents.
Super Space X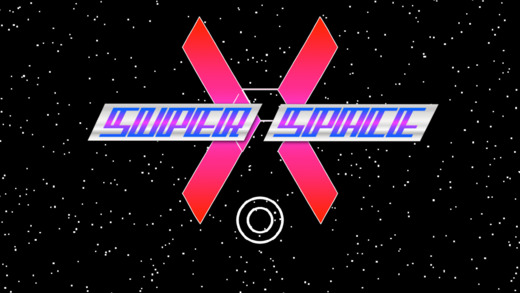 Normally $0.99.
In Super Space X you control the Intruder 53X, a spacecraft which carries a special load.

Dodge meteorites, laser rays and plasma balls to pass to the next level and achieve your goal but, be careful because the game it's not easy at all. Scenes are designed for you to do your best at every second. You won't have time to relax.

Get the different types of capsules that will help you to improve your scores and win the game.

– The red capsule will help you to destroy asteroids.
– The blue capsule will give you points and you could get your shield back.

The game has nine stages with a design that will complicate things to avoid you get your goals.

Super Space X is a game developed by Black Cube with music by Mr. Spastic, Gregoire Lourme and other artists.

Features:

– 9 scenes in which you can play and improve your scores.
– Pixel Art design.
– 60 constant FPS.
– Share your achievements using Game Center.
– Ultra-adjusted difficulty.
– Easy and intuitive control.
– Music by Mr. Spastic, Gregorio Lourme and other artists.
Loc Pic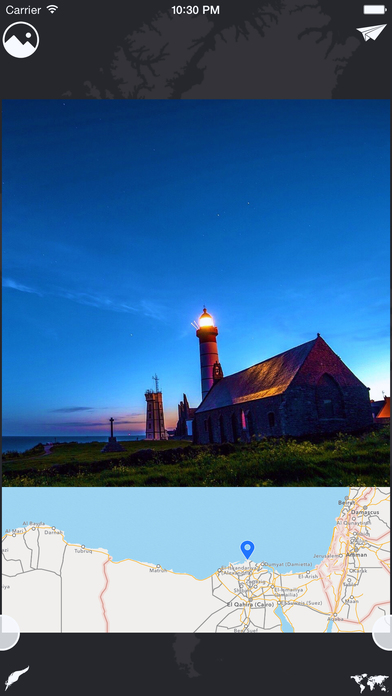 Normally $0.99.
Loc Pic is a photo editor to tell more about a photo.

Loc Pic would show exactly where a photo was taken by adding a map, and you can adjust the map's type, Apple/Google map, scale factor, shape, opacity and much more other features.

Also it's capable of adding text on a photo, and you can customize the text's font, size, color, opacity, letter spacing, line spacing, border width, border color and so on.

Get Loc Pic and let your photos say more.