As of this morning, all four major wireless carriers offer data plans described as "unlimited" to all their customers. But while I'm reluctantly willing to describe the Verizon, T-Mobile and Sprint plans as unlimited (despite some restrictions), AT&T's plan could better be described as a "22GB data plan but you can't actually use that data to watch pretty videos or do work on your laptop" plan.
Admittedly, it's not such a catchy description, but it does have the alternative benefit of being true.
When AT&T announced the plan yesterday, it didn't give us all of the pricing details or restrictions on that unlimited data. But now that the plan is available, we can see specifics, and it suddenly looks like less of a good deal.
Let's start with the fine print. There's a lot of it, which you can examine in detail here, but two conditions really stand out:
Tethering and mobile hotspot use are prohibited (except for Connected Cars)
Stream Saver is included on select plans, including the new AT&T Unlimited Plan. Stream Saver is designed to identify streaming video content so that data speed and resolution of higher definition video can be adjusted to Standard Definition quality (about 480p). This allows customers to stream more video while using the same amount of data.
According to these details, there's no way for you to use the mobile hotspot feature on your phone, even in a limited way. If you ever need to work on the go, forget about AT&T's unlimited plan, in other words. It's particularly bad when you compare it to Verizon and T-Mobile's newly-updated Unlimited plans, both of which offer 10GB of 4G tethering, and unlimited tethering at slower speeds.
Stream Saver is phrased as a consumer-friendly way of saving you data, but the end result is probably a little different than what you want: it means that you can't stream video in HD, even if you want to. Again, it doesn't look good compared to T-Mobile or Verizon, both of which actually allow you to choose if you want to stream HD or SD video.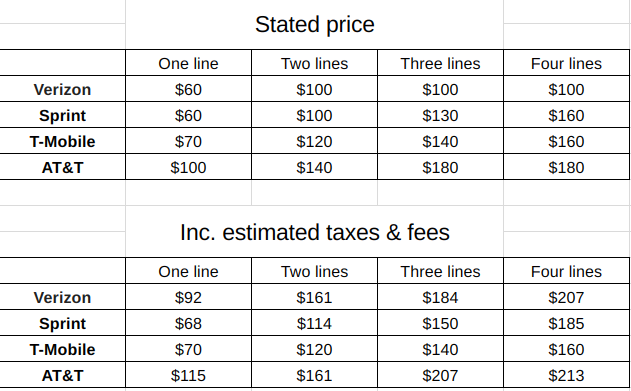 Then there's the pricing. The spreadsheet above shows the different prices for all the different Unlimited plans, and as you can see, AT&T doesn't compare particularly well. AT&T's pricing is $100 for the first smartphone, and then $40 thereafter for each additional device. The company is promising a bill credit for $40 when you add one more smartphone, which means three or four lines are virtually the same price (although you'll stay pay taxes on the fourth line, we assume).
The estimated taxes are a best guess based on the New York zip code, as as none of the customer service teams I contacted could actually give me a firm quote for the taxes and fees on each plan. T-Mobile includes all taxes and fees in the stated price.
Based on those prices, AT&T is the most expensive, and is particularly bad if you're just one person wanting unlimited data. Given than Verizon and T-Mobile rank in front of AT&T in network speed and availability, and have plans that are cheaper and more generous with data, there's no actual reason I can see for going with AT&T's new plan.