We're just a few minutes into WWDC 2018, and Apple has already covered the biggest announcement of all: iOS 12. Up next, we have the latest series of changes and improvements for Apple Watch in watchOS 5.
Apple executive Kevin Lynch took the stage on Monday to show off some of the new features coming to Apple Watch this year. First up is the ability to challenge your friends to 7-day workout competitions. As you and your friends make progress, you will receive notifications on your watch to let you know if you're winning or losing.
There are a wide variety of workout challenges to choose from, including Yoga and Hiking, which are both new to the platform. Apple isn't the first smartwatch or workout app maker to introduce social features like this, but they're a nice addition nonetheless. There's no better motivator than the threat of losing to your friends.
Another exciting addition in watchOS 5 is automatic workout detection, so you don't have to tell the Apple Watch what you're about to do. watchOS 5 can also figure out what workout you're doing after you've started, and retroactively credit you for any running, swimming, or hiking you've done in the minutes or hours prior.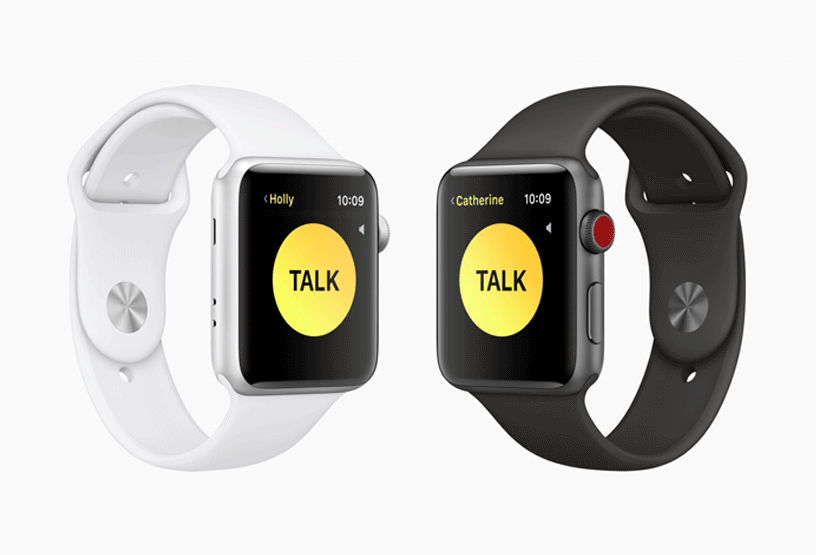 Apple also revealed a new feature called Walkie-Talkie which allows users to send short voice memos to friends. The first time you send a message to a friend via Walkie-Talkie, they will have to approve it, but then you can shoot them voice memos any time with the press of a button. The feature works over Wi-Fi and cellular.
Moving on to the watch faces, Lynch says that they will now show new content, including sports scores, maps, and your heart rate. Third-party apps will appear on the watch faces as well, and the Siri Shortcuts that Apple announced earlier in the keynote are coming to watchOS 5, so you can bring them everywhere you go. Oh, and Apple is going to replace your student ID card in the Apple Watch wallet to access the library, pay for meals, and more.
We also got a glimpse at interactive notifications from Yelp and other apps, WebKit integration for richer web content, and the long overdue addition of podcast streaming on Apple Watch. It's about time, Apple.
watchOS 5 will be available as a free update this fall for all Apple Watch Series 1 and later models.