The more people buy Apple Watches, the more stories we'll hear about how the wearable device did something that saved someone's life.
The latest such account comes from Florida, where an Apple Watch alerted an 18-year-old that her resting heart rate was at 190 beats per minute and that she should seek immediate help.
It turns out that Deanna Recktenwald suffers from chronic kidney disease, a condition that went undiscovered all these years. The disease did not show any other symptoms. It was the Watch's heart rate monitoring features that alerted Recktenwald and her family that something is wrong.
"I didn't know what was going on at all and it was just out of the blue," she told WFTS.
"It was alarming that the watch was telling us to seek medical attention," her mother, Stacey, added. "I didn't even know that it had the capability of giving us that alert."
Stacey, a registered nurse, took her daughter to a walk-in clinic where the Watch's findings were further confirmed. Deanna was then sent to the emergency room for further testing, with doctors confirming her final diagnosis.
Her kidneys are apparently functioning at only 20% and she might need a renal transplant in the future. However, her condition can be monitored now that she's aware of it.
The teen received the Apple Watch as a Christmas gift. Her mother wrote a letter to Apple to thank the company for saving her daughter's life — here's that letter: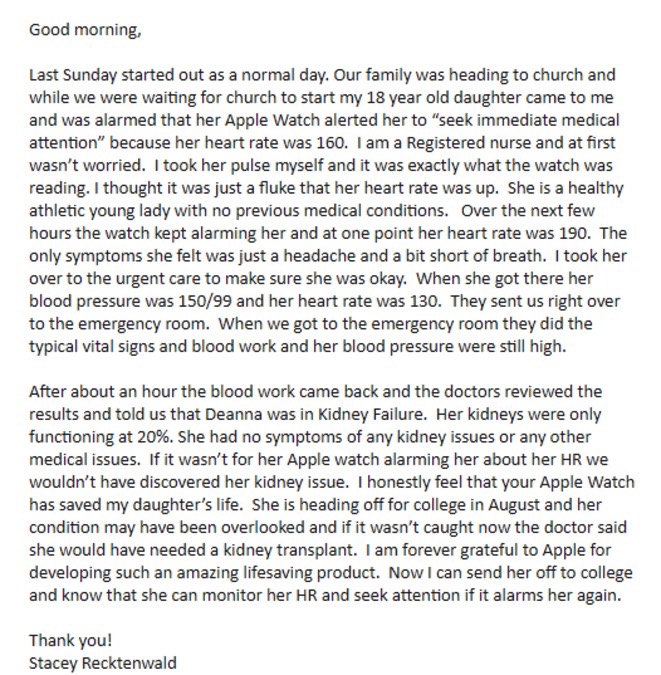 Apple CEO Tim Cook responded saying that he's glad Deanna is fine now and that such stories inspire the company to keep pushing: