Apple products look and feel great, even if we're not always perfectly happy with the company's design choices. The iPhone X Is a perfect example. It looks and feels terrific, and the experience is excellent. But it has a notch and a camera bump on the back. These are compromises Apple needs to make for the time being.
But what's great about the iPhone X is that it's the herald of a new design era at Apple. The iPhone X is the first Apple device to have almost eliminated the bezels, and a revealing research note just told us it won't be the last. The iPad and Apple Watch are about to receive massive makeovers, and it all has to do with eliminating those bezels.
Well-known Apple insider Ming-Chi Kuo returned with a new note earlier this week, addressing Apple's hardware lineup for the remainder of the year. The analyst says that, among other things, Apple will launch an 11-inch iPad, a size we haven't seen before. The Apple Watch 4 will still come in two sizes, like every series that preceded it, but the displays will be even bigger.
Blog 9to5Mac imagined what these new products would look like, creating renders for the rumored new products.
Both the 12.9-inch and 10.5-inch iPad Pros are expected to be updated this year, And the latter will probably receive that 11-inch screen Kuo was talking about. The new iPad Pros should feature Face ID cameras and no home button, which means that Apple will significantly shrink the bezels. Here's what they could look like, compared to last year's models: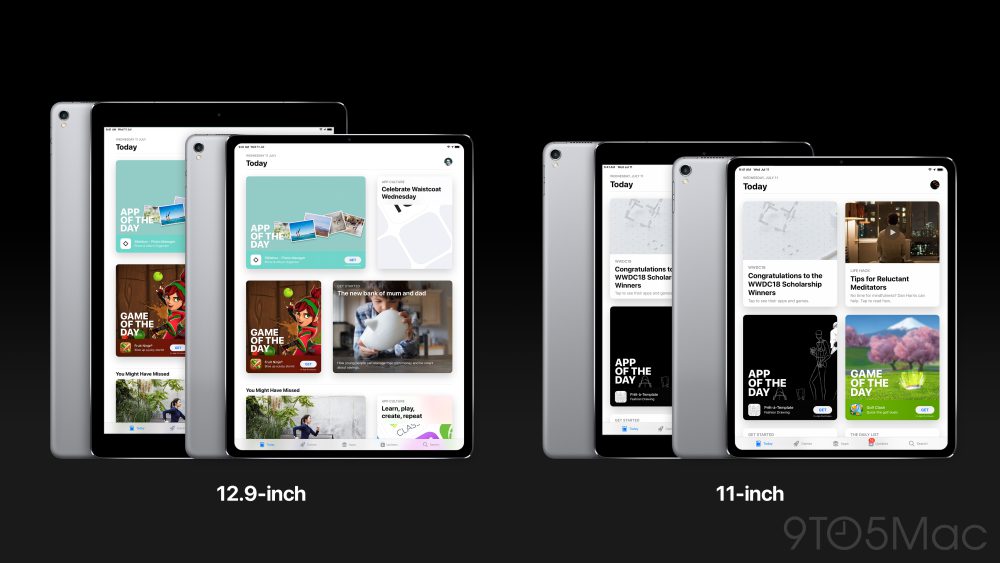 Similarly, the Apple Watch screens are getting bigger. Kuo says the 38mm (1.49-inch) model will have a 1.57-inch (39mm) screen, while the 42mm (1.65-inch) version is getting a 1.78-inch (45mm) display. Again, Apple is reducing the bezels so that the new watches will be just as big as previous generations.
Just like the iPad render, the image above is only a fan-made illustration, but it shows how much bigger the Apple Watch display can get. If Kuo's measurements are accurate, then the smaller Apple Watch 4 will have a screen almost as big as the 42mm Apple Watch.