New research data compiled by Strategy Analytics reveals that Apple's iPhone lineup accounted for a whopping 51% of global smartphone revenues during the 2017 holiday quarter. Specifically, the iPhone generated approximately $61.4 billion in revenue during the December quarter, with the global smartphone market raking in $120 billion during the same time period.
Year over year, the iPhone's share of global smartphone revenue increased slightly, jumping from 48% to 51%. With Apple occupying the top spot, second and third place went to Samsung and Huawei which posted quarterly revenues of $18.9 billion and $8.4 billion, respectively.
"Apple iPhone generated a huge US$61 billion in the quarter, helped by solid demand for its premium X model," the company noted in a press release, "and Apple now accounts for more revenue than the rest of the entire global smartphone industry combined.
"Apple generated three times more smartphone revenue than nearest rival Samsung and 7 times more than Huawei," the press release adds. "Apple iPhone's average selling price is approaching US$800 and almost three times higher than the overall industry average. Apple iPhone is an incredible money-making machine."
All told, Apple's ability to dramatically increase iPhone revenue during the holiday quarter is all the more impressive given how late into the quarter the iPhone X was released.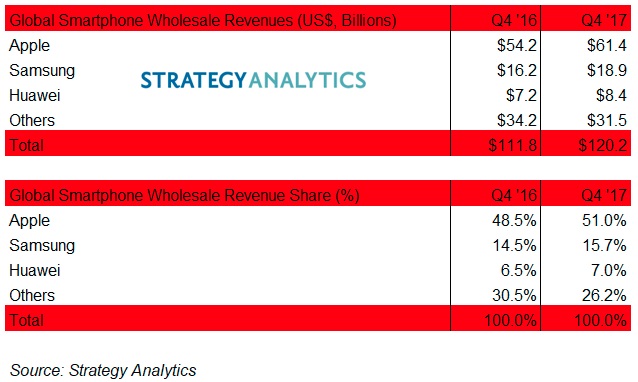 Looking ahead, Apple's revenue dominance is poised to increase in the months ahead. Though the iPhone X did not usher in an upgrade super cycle as some anticipated, there's a strong chance that Apple's rumored 6.1-inch iPhone X variant with an LCD display — and a much more affordable price point — will spur an avalanche of upgrades later this year. With carriers no longer offering friendly subsidies as in years past, the reality is that the iPhone X's $1,000 sticker price likely dissuaded otherwise interested iPhone owners from actually upgrading.