Yesterday, Google announced Android P and released Developer Preview 1, which is available for download to Pixel phones only, whether they're first-gen handsets or Pixel 2 models — yes, that's right, no Android P for you, Nexus 5X and 6P owners!
Google also explained some of the new features in Android P, although it undoubtedly left out some of the best tricks, so that it can unveil them at its annual Google I/O developer event in mid-May. You probably know that Android P now officially supports the iPhone X-like notch designs, just as the rumors said. But that's hardly the only new feature available in this early Android P version.
We've already covered some of the most notable features in Android P, including notifications improvements, new settings menu, the indoor positioning system, the screenshot editor, and the notch.
But Droid-Life put together a video that goes through all the Android P features it was able to identify so far, including visual changes that will be immediately clear to long-time users, but also more subtle changes.

Android P looks like pretty much like Android O, so expect Google to improve what already works in Android in its next major update.
The design changes are subtle, like the relocation of the clock — to make room for the notch — or the app drawer at the bottom of the screen. In fact, the new Android P launcher is already available for download so you can install it on your Android handset right now.
Other visual changes include more rounded corners throughout the OS, and a new side volume control menu that appears when you press the volume buttons. In addition to allowing you to adapt the volume on the device, the handset will let you control volume on connected devices, which is a neat trick. The power menu, meanwhile, gets a new screenshot button, and we already explained that you can edit screenshot inside Android P.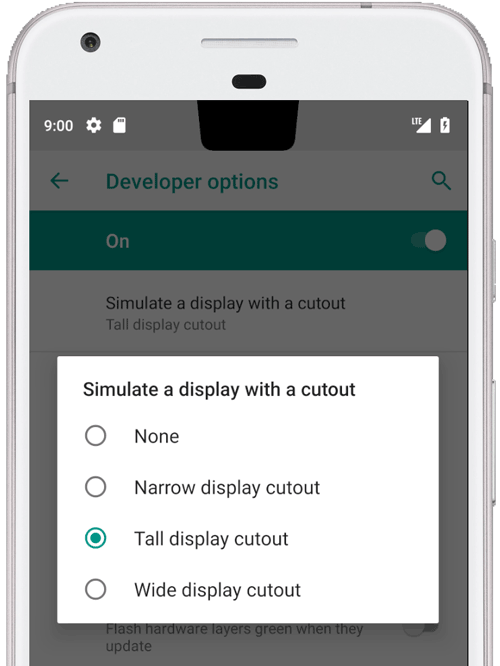 The notification panel has also been improved. You can expect rounded corners, but the best part about it is the more vibrant content, which now includes better images and contact details. The quick settings panel has also received a slight redesign, as it now includes all the quick settings you're regularly using. A new color arrangement, which varies depending what theme you use, and whether there's a notch present, will quickly tell you what's and what's off.
You can also test a variety of notches on your Pixel phone, which should come in handy if you're a developer — even though it looks totally crappy on a notch-less Pixel phone. You'll see exactly how notifications behave on notch designs, and how your app will look like. Before you ask, the display ears do not have distinct functionalities as it is the case with iOS 11 on iPhone X. However, that may change down the road.
Notice that I've only addressed above some of the visual changes expected from Android P's UI, but there are plenty of additional new features in Developer Preview 1, as seen in the following clip: