Earlier this week Google unveiled the official name of Android 8.0, confirming all the Oreo rumors and hopes. Soon after that, the company made the final version of Oreo available for download, with the usual, annoying twist: only Pixel and Nexus devices get the update on D-Day, with everyone else left waiting in the cold.
That's precisely why most Android users out there will not be able to take advantage of one of Oreo's new anti-malware security tricks right now.
Google Project Manager of Android Security Edward Cunningham explained in a blog post that Oreo is getting a new permission meant to prevent the covert installation of malware apps.
The Install unknown apps permission replaces the Allow unknown sources setting that would let you install apps from third-party sources.
In most cases, malware comes from places that aren't affiliated with the official Google Play Store. But users still choose to install such apps on their devices or are tricked into doing it.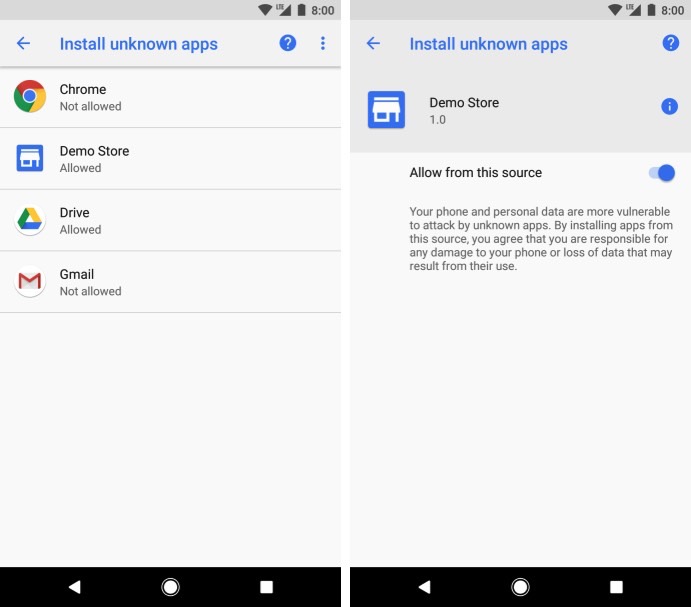 Some of these apps then fool the user into installing additional apps on their phones and tablets presented as app updates for the original malware app.
But Oreo's new permission will trigger a prompt when the app tries to install a different app, and the user will have to grant permission manually.
The new permission shows users what apps are allowed to install other apps, and users can modify the behavior of trusted apps at any time.
Unfortunately, the people who need this feature most won't get it anytime soon, and they may never get it. It's likely these aren't Android-savvy users who may already rock Pixel or Nexus devices. They may not even own flagship handsets that will get Oreo in a few months. So, as useful as the new Install unknown apps permission is, it might not curb malware where it matters most.
Hopefully, this other hot Android feature will help device makers issue speedy Android updates in the future so that more users can benefit from Google's innovations as soon as they're available not just the ones who buy Google hardware.