Android and iOS have been doing battle ever since 2008, and in that time, there have been some long-running problems with both operating systems. The iPhone's notification system is a mess, Android took way too long to put a battery percentage on the status bar — oh, and Android's upgrade system is a complete and utter mess.
While most of the problems that blighted both OSes at launch have been fixed by now, Android's "fragmentation" issue — the fact that most Android phones are running different versions of Android, and new updates are incredibly slow to roll out — has only become worse with time.
Google released new data Monday on the state of the Android union, and simply put, it's not pretty. Android 8.0, the latest version released on August 21st, is currently installed on 0.5 percent of all Android devices. Current flagships like the Galaxy S8 and Note 8 won't be getting Android 8.0 until 2018, and the vast majority of Android devices currently in circulation won't get the update at all.
Things get even worse when you look at the rest of the Android field. It's not like there's a bunch of devices sitting on Android 7.0, waiting to be updated: Android 7.0 and 7.1 has a combined share of 23.3 percent, 6.0 has 29.7 percent, and Android 5.0 is at 26.3 percent.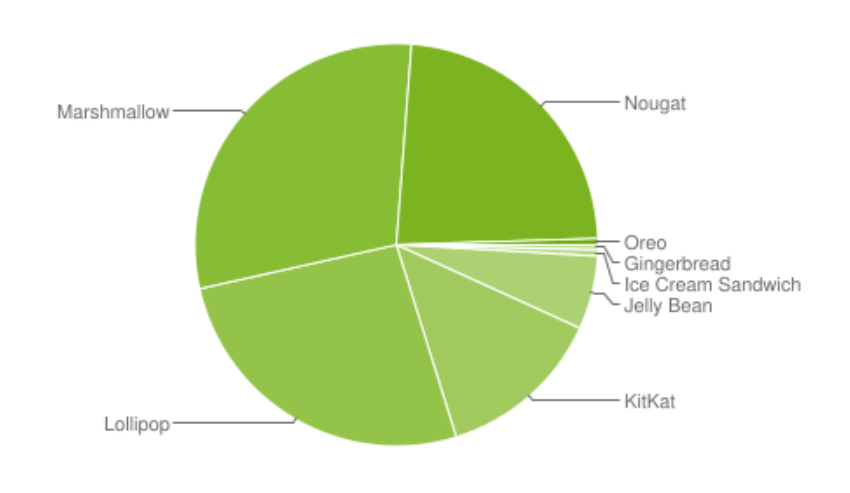 To put all this in perspective, iOS 11 was released on September 19th, nearly a full month after Android 8.0. As of December 4th, 59% of all iOS devices were running iOS 11, 33% are on iOS 10, and just 8% of devices are on something older.
This isn't for a lack of trying on Google's part. Google kicks updates out to its own Pixel and Nexus phones as fast as it can. But for everyone else, there's too many links in the chain: Google releases an update, the the manufacturer has to tweak it and fix all the unique bugs it creates on every single device, and then mobile carriers has to make sure that the new update works on its network. Often, manufacturers and carriers won't both to spend the time and money doing all this, because the lack of software support creates a reason for customers to upgrade and get the new features.
So, not specifically Google's fault, but absolutely Google's problem. Unfortunately, there's no solution on the horizon, and at least based on the data for Android 8.0, things are getting worse, not better.