Remember that nasty Amazon vs. Google feud that keeps making the news? Well, things have improved since early December. Amazon agreed to sell the Chromecast in its online store, and it released an Amazon Prime Video app for Android TV devices.
Google took issues with Amazon's decision not to sell Chromecasts as well as the absence of a Prime Video app and the fact that Amazon's streaming service isn't Chromecast-friendly. That's why it decided to prevent Echo and Fire TV devices from accessing YouTube come next year.
This is the first time the Amazon Prime Video app is available in the Play Store, Android Police explains, although it was available in the past on certain Android TV devices like the NVIDIA SHIELD TV.
That said, the app won't work on all Android devices out there, as seen in the following image. So it's not all good news from Amazon.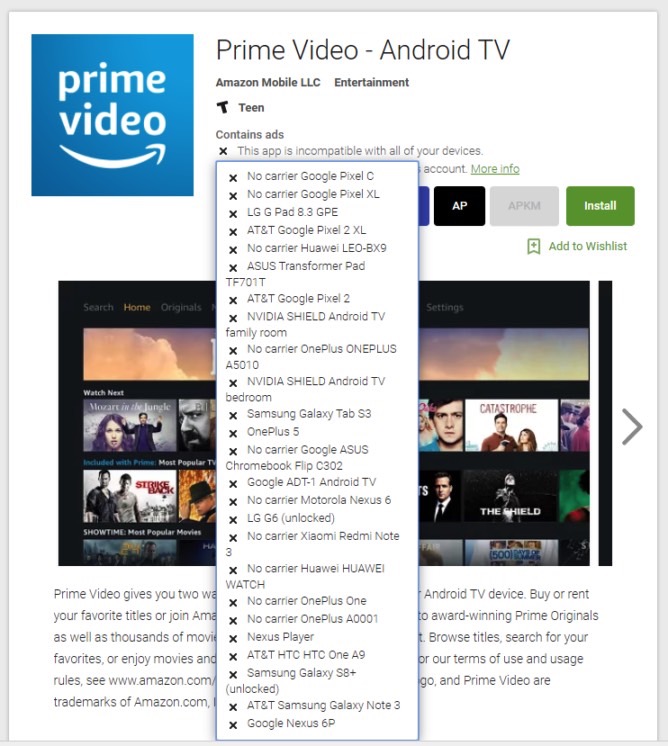 It's unclear why so many devices aren't compatible with the app, including NVIDIA SHIELD TV devices that should be able to run it. Maybe Amazon has to update it before it's compatible with more Android devices. But, whatever the case, this shows that Amazon is ready to play ball with Google. And that's all one could ask for.

Well, that's not entirely all. Chromecast support would be nice as well. As for Google, it'd better allow all those Echo and Fire TV owners out there run YouTube come January.