One of the more interesting and controversial items to emerge from Apple's special media event earlier this month was the introduction of a new pair of wireless headphones called AirPods. Sporting a futuristic design and impressive battery life, Apple's AirPods have been praised as much as they have been ridiculed.
On the positive side, Apple's AirPods are jam-packed with advanced technologies. On the other hand, many argue that the design of Apple's AirPods is not user-friendly nor aesthetically pleasing.
DON'T MISS: Yup, now the iPhone 7 is exploding
Priced at $159 and not available for purchase until later next month, there's no telling how the masses will take to Apple's premium priced headphones. In the meantime, a new research report from Bank of America Merrily Lynch (BAML) suggests that Apple's new AirPods may be far more popular and lucrative than even the most optimistic of Apple bulls could have anticipated.
According to BAML, 12% of surveyed individuals indicated that they plan to purchase Apple's new AirPods. Note that this isn't 12% of iPhone owners, but 12% of people surveyed. As John Gruber points out, this is especially impressive given that Apple has, at this point, done absolutely zero advertising for its new wireless headphones.
Consequently, BAML anticipates that Apple's new wireless headphones could contribute up to $3 billion in revenue to Apple's bottom line.
For some context, that would make Apple's AirPods more of a success than Apple Music.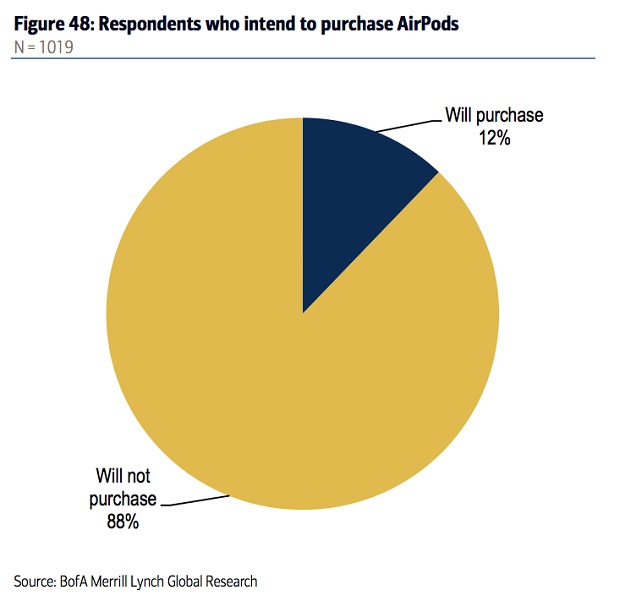 Interestingly, BAML also found that consumer interest in Apple's next-gen Apple Watch is actually lower than it is for AirPods, with just 8% of respondents indicating that they plan to purchase the Apple Watch Series 2.