Apple on Thursday unveiled the iPhone 7 family complete with release date and prices. In the process, Apple discounted the aging iPhone 6s, while the even older iPhone 6 was discontinued. There's nothing out of the ordinary with that. That's exactly how Apple does things. But the iPhone maker came out with an iPhone version that so many people wanted last year, a 32GB iPhone 6s that Apple never made, choosing instead to somewhat force buyers to pick the next best thing, a 64GB iPhone priced $100 extra.
DON'T MISS: iPhone 7 release date announced: Preorders start Friday, release on September 16
Could Apple troll us any harder? For $549, you get an iPhone that's one year old and has 32GB of storage. Pay $649, which is how much the 32GB iPhone 7 costs, and what the 16GB iPhone used to cost, and you get a 128GB iPhone 6s that's exactly $200 cheaper than its original price.
In other words, if you haven't purchased the 32GB iPhone 6s, there's no point doing it now. Stay away from it just like you should stay away from the 32GB iPhone 7. 32GB of built-in storage is always better than 16GB, but it won't be nearly enough for many smartphone users. And for $100 extra you get four times as much memory. 128GB of storage should certainly suffice. After all, that's how much storage you find these days on entry-level MacBook laptops.
You can't order a 32GB iPhone 6s just yet, even if you can choose it on Apple's site. However, you can purchase a 128GB iPhone 6s for $649 right away.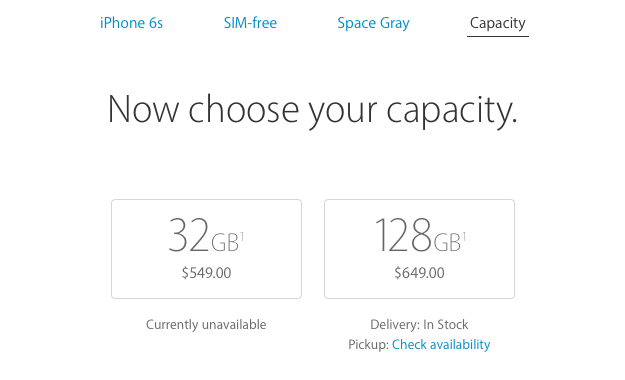 If there's one thing clear here is that Apple is still making plenty of money from iPhone storage upgrades. But the company is also ready to pass on savings to customers, by keeping prices the same (or slightly bumping them), and significantly increasing built-in memory.