Apple's newest iPad Pros are out in stores, which means that some users out there are already testing them out. Benchmarks are, naturally, part of the process, and they already seem to confirm something we already knew: the 2017 iPad Pro generation is nearly as powerful as the brand-new MacBook Pro.
Can the iPad Pro replace the MacBook Pro? No, we're not quite there yet. Apple's best tablet can't do all the things Apple's best laptop does. Or better said, iOS is still trailing behind macOS at satisfying some of the Pro needs — though iOS 11 brings a lot of exciting features to the iPad.
But synthetic benchmark tests tell an interesting story. Apple's custom mobile CPU and GPU used in iPad and iPhone can almost match the performance of the Intel chips found in MacBook Pros. That's an interesting prospect for the future. Apple will continue to improve its A-series chips, and it's rumored to be working on its own GPU designs.
Blog BareFeats put the 2017 iPad Pro and the 2017 13-inch MacBook Pro through the same benchmark tests, and discovered that the tablets are ready to offer some impressive performance, particularly on the graphics side.
The report also reveals something we suspected all along, that the new iPad Pros come with 4GB of RAM.
"As you can see from the graphs [all of them are available at this link], the 2017 iPad Pro actually ran some of the benchmarks faster — especially the GPU intensive ones," the report notes. "And in the CPU-intensive tests, the 2017 iPad Pros were 'gnawing on the heels' of the MacBook Pro."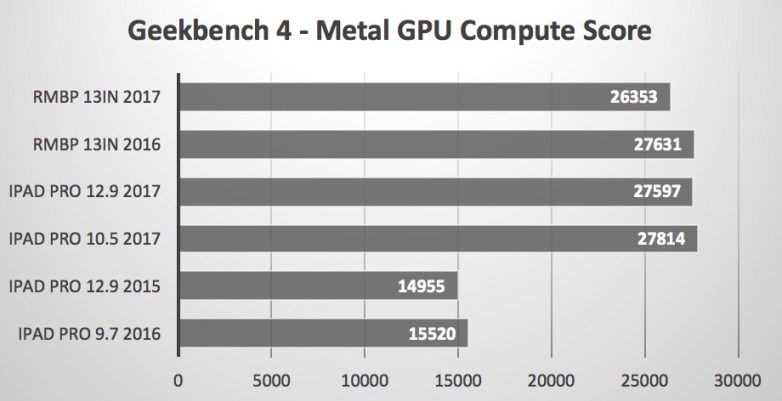 "Think about it: The top configured 2017 MacBook Pro 13-inch costs roughly 3 times more than the top configured 2017 iPad Pro," BareFeats notes. "Yet the laptop is only slightly faster running CPU intensive apps and slower running the GPU intensive apps."
Is it just me, or is Apple slowly developing ARM chips that could one day run macOS, or an iOS version that behaves very much like macOS?